Powerful Photos Will Make Your PowerPoint Pop
By Grant Ainsley | Tips | [comments] | Posted [date] | [share-widget]
---
When you sit down to prepare a slide deck for a public presentation you have a blank canvas to work with. You can truly paint a presentation masterpiece, but sadly far too many people revert to what they think their slides for a presentation should look like because what's what they're used to, or what they've seen others do. Instead of creating a masterpiece, they tend to load it with as much information as possible. Substance wins over style.

We've heard of Death By PowerPoint, but despite that far too many people today build slide decks that are putting their audiences to sleep.

There's no reason for your presentation to look dull, so here's how to make your presentation stand out. It can be professional and unique at the same time.

Use Photos To Help Tell Your Story
I was speaking last week in Banff at the conference for the Safety Codes Council Alberta, where I did both my Talk Like a Leader and Present Like a Pro presentations. As I was talking to delegates about the best ways to put together a slide deck for a presentation, I realized that I should be showing them how to do it and not just talking about it. I will change that for future Present Like a Pro presentations, but in this week's blog I want to show you how to use great photos to help you tell your story by showing you what I use for the two keynote presentations I just mentioned and also my media training work.

Here Are a Few of Mine
When I do media training sessions for organizations, one of the key points I tell my clients is always treat reporters with respect and be cooperative. I use the phrase "Feed the Dog" to get my point across, trying to let people know they are far better off dealing with the media than trying ignore or evade reporters. I tell them to return calls from the media and try to have a comment even when they would rather do something else. Here's the image I use for that portion of my presentation to drive him my point: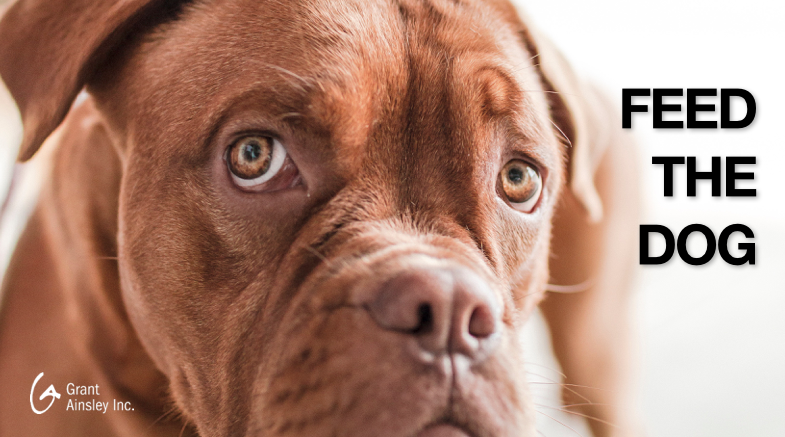 I like the look on the dog's face. I'm not sure what the dog is thinking, but it's an interesting look. It drives home the message for people to feed the dog when they deal with reporters.


When I do my Talk Like a Leader presentation I discuss ways leaders should prepare for and have difficult conversations with employees, external vendors, customers and others. One of the key points I make to help with their leadership skills is to listen to what the other person is saying during these discussions. They can use that information to tailor their responses and listening also allows the person they're speaking to to have their say. This is the image I use: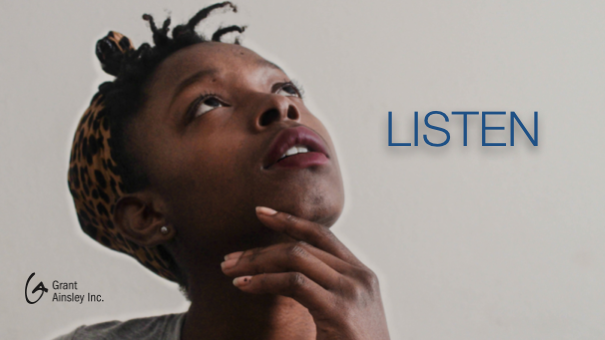 I think the power of the image drives home the point for leaders to pause, listen and then think about what the other person has said.


When I do my Present Like a Pro presentation on public speaking skills, one of the points I stress is the need for people speaking in public to look at as many people in their audience as possible. They should try to consistently look around the room and instead of looking over the heads of people, they should try to look into their eyes. Here's the image I use for that: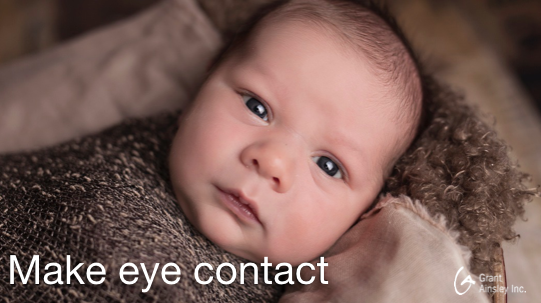 The dark eyes of the baby drives home the need to look into the eyes of as many people as possible as you speak. The combination of me saying the words and the power of the image results in the message being delivered much better.


Please try to avoid using stock images where models are used to get a very professional but sanitized look. I would much rather use a photo of a baby to reinforce my point about eye contract than having a photo of a model speaking from the podium and looking at the audience. It just looks so corporate and forced. There are so many other great choices out there, so use them.

Less is More When It Comes to Words

Notice that there are very few words on any of the slides. I like to use very little text, but also want to make the letters large enough to drive home the message of what I am saying from the stage.


Keep in mind that you should be the star and not your slide deck. When you have a lot of text on the screen the eyes of your audience will leave you and go to the screen to read what's in front of them. When they do that, you no longer have their undivided attention (assuming you had it before). It's difficult for people to listen and comprehend what you're saying when they're trying to read a lot of text. Keeping the number of words to a minimum allows you to make a strong, clear statement and reinforce that message with your words.


A couple of quick tips about fonts. Try to use the same font throughout the presentation. Changing from one font style to another doesn't help with anything, especially since you're keeping the number of words to a minimum. Once you have a font you like and have used it on a slide just copy and paste the text from one slide to another and then change the words, font size and colour. This is a lot easier than trying to recreate the same text each time from scratch.


Stunning Images For Free


You're likely asking now "Where do I get the great photos?" There are all kinds of free photo websites, but the one I like the most is Unsplash. The photos are free, they're beautiful and there's great choice.


There's also a handy search feature that helps you look for a specific type of photo. Let's say you are talking about a shortage of skilled construction labour and want an image to go with that portion of your presentation. Just type the word "construction" into the search feature and all the photos tagged with that word will be displayed. You also may want to try words like "people", "worker", "labour" and "trades" to make sure you have some choices. A note of caution though – the more specific your search, the less of a chance it will find a photo to match.

Other photo sites you may want to check out include Picjumbo and Pixabay. There are several others.

It's really easy these days to use a professional photo on the internet by cropping the photographer's name and logo off the bottom. Please don't though. There's far too much theft taking place these days and since there are a lot of great free options, why steal somebody else's work? The same goes with drawings, illustrations and cartoons.


Size Does Matter


Try to find images that are large enough that you can fill the entire slide on PowerPoint or Keynote, which is Apple's version of PowerPoint. When you have a fresh canvas to work with, why not use it all? A full-screen image then allows you to find a good spot on the image to drop in the text. The problem that occurs with some photos is that the image size isn't large enough to cover a full screen and the image gets fuzzy, especially when projected on a large screen.

Try to resist the temptation to use a PowerPoint or Keynote template. I know they look really nice and are likely much more professional than most people can design, but the problem with templates is that they force you to use their format which normally means inserting a lot of text, something I suggest you avoid. Starting with a blank canvas allows you to design what you want and not what the makers of the program have given you. If you do use a template, make the image as large as possible and keep the number of words down.

It just seems to me that a useful slide deck should be a combination of great images and just the right number of words to help you tell your story and ensure you remain the star. It should help you tell your story, not replace you.