I'm Not Sure What To Do With My Hands

By Grant Ainsley | Tips | [comments] | Posted [date]
---
We met Ricky Bobby over a decade ago. Will Ferrell's character in the movie Talladega Nights was the usual strong Ferrell comedic effort, but I didn't think I would be referring to it in my blog, or during media training sessions all these years later.

People aren't sure what to do with their hands when they speak to the media, or in almost any situation where they speak while standing, especially if they're answering questions.
When Ricky Bobby said "I'm not sure what to do with my hands" it was funny, but his confusion reflects what I see all the time as I work to get people to communicate better.

Ricky Bobby Was Right
While doing a media training session in mid-November, I mentioned the difficulty many people have when they're interviewed because they aren't sure what to do with their hands. It's as if when they need to make sure what they have to say is said well, their hands somehow get in the way of their voice.
I didn't realize this was an issue until I started noticing how people began fidgeting, as I started recording an interview with them.
Then a person at that November media training session mentioned how Will Ferrell's character Ricky Bobby had the same problem in the 2006 movie Talladega Nights: The Ballad of Ricky Bobby. He was right.
Drop Your Hands to Your Sides
I believe the best way to do a media interview, or speak to anyone is by starting with your hands at your sides. From there, you can use your hands as you like to help give your voice rhythm and cadence. It's a natural move. Doing anything else requires a conscious decision to use your hands in a different way.
Too often though, I see people being interviewed, both during media training and in real life situations, holding their hands clasped together in front of them near their waist. I call it the soccer penalty kick position, similar to what players do when they defend a free kick.

This position does nothing for you as you speak and actually hurts your body language. Many of us are the most sensitive about the middle part of our bodies and any time we can open that part of our body to the person we're speaking to it's a good thing. When we close ourselves, it makes us look defensive and at times, unsure of what we're saying.
An option for men is to put one hand in your pocket. It works ok because you can keep the middle part of your body open and use the free hand to help your voice. You should never put both hands in your pockets though.
Here's Dave Bentley of the Alberta Construction Association, using the one pocket look when I did media training for the ACA awhile back.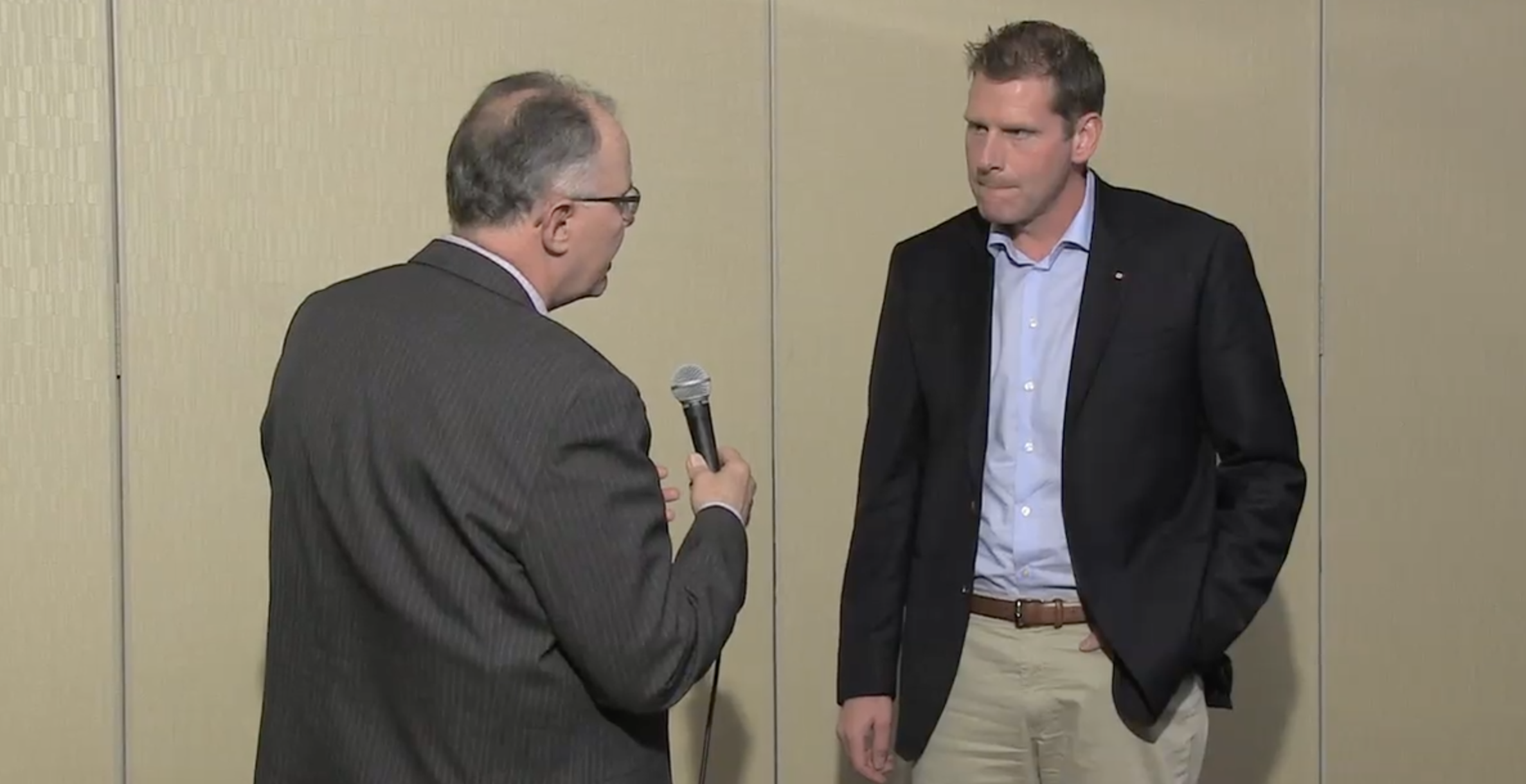 What Not To Do
There are other ways of using our hands of course – none of them good.
Clasping our hands behind our backs (what I call the Choirboy position) is something a few people do during media training. I don't suggest doing this either. It doesn't look natural and if you're wearing a jacket, the stance pulls it open.
The odd person will fold their arms across their chest as they do an interview, or speak to people at work. While I shouldn't need to mention this is something you shouldn't do, I will anyway, just to make sure you don't. It's ok in some circumstances, but when you're trying to look open and encouraging, it's not the best look.
Your Hands Are Voice Helpers
Your hands can help your speech and your look. Using your hands helps relax your voice and adds texture to it.
I remember doing a media training session last year in Nanaimo, BC and I was interviewing a new member of an association's Board of Directors. He was young and had no media experience. His first two answers were tentative and he was unsure of himself, but when he got to the third answer, he seemed to know the content better and as he found confidence, he started using his hands. He began getting a rhythm and by using his hands, he started looking like, and sounding like an expert. I'm not sure whether the confidence, or the use of his hands came first, but they definitely were connected.
Using your hands also gives you a stronger look. Many good media spokespeople use their hands. However, whether you're speaking to the media, or to your employees, using your hands improves your look. It makes you look more confident and the combination of your words with the way you use your hands can be extremely effective. Most people don't realize it, but their hands help tell their story. Subconsciously people don't realize there's a connection between what they're saying and how their hands help tell their story, but there usually is.
It's Not Your Microphone
One of the things you should never do with your hands is to try to hold the reporter's microphone. This has happened a few times to me as I've done media training and I've been surprised when the person started speaking and tried to hold the microphone. They must do a fair bit of public speaking and are used to holding a mic when they speak.
Simply put, it's the reporter's microphone, so don't try to take it from them. Most reporters won't allow you to take it anyway. At times, I've seen a polite tug-of-war between the reporter and the person being interviewed.
Ricky Bobby tried to hold the microphone too. Although that scene from Talladega Nights was funny, it was awfully close to the truth.
Corporate Media Training
I am now booking media training sessions (either full or half-day in length) for early 2018. Contact me for a written proposal if you're interested.