Guns, Social Media and The Fabulous Moolah

By Grant Ainsley | Tips | [comments] | Posted [date]
---
You might be wondering what the connection is between a serious issue like gun violence and a former female wrestler. Well, it's social media and the power it has to create movements that can gain momentum almost overnight.

One story was about the fight over gun control in the United States and the penalty a talk show host paid for mocking a survivor of the Parkland school shooting. The other was about the late Fabulous Moolah, and the WWE's ill-fated attempt to honour her.
It made me think social media is now more powerful than traditional media in shaping public opinion and bringing change.

Laura Ingraham Gets a Week Off
Last Wednesday, Fox News TV and radio host Laura Ingraham sent a Tweet that really wasn't all that different than dozens of others she's sent recently. A quick look at her Twitter timeline shows a long list of posts supporting President Trump, gun ownership rights and other issues that are typical of what Fox News commentators are consumed with these days.
Then she went one step over the line when she trolled Parkland shooting survivor and student spokesperson David Hogg.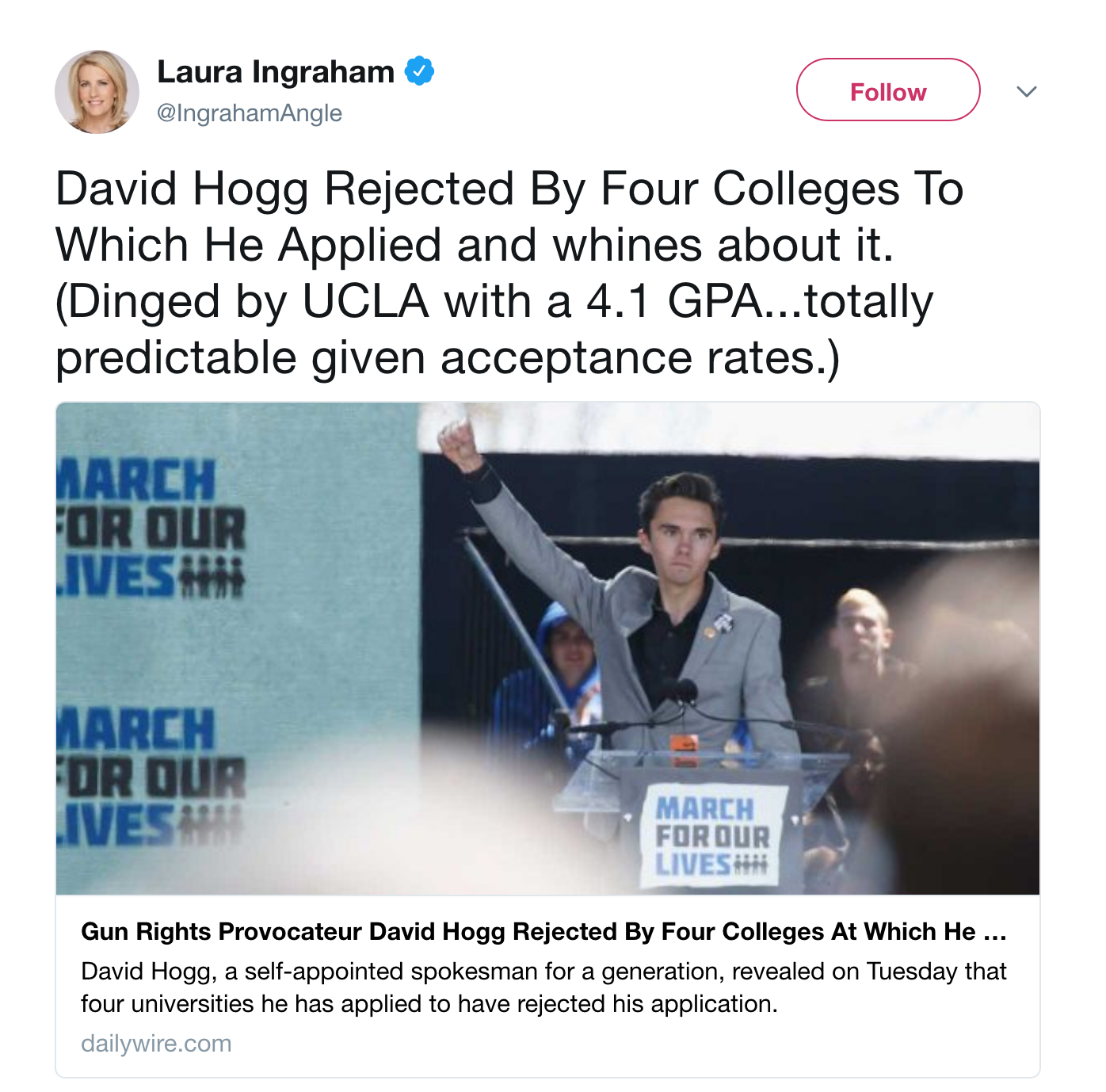 When you take a step back and look at her other Tweets, this one doesn't seem any different from the others. However, this time she wasn't attacking a politician, she was going after a survivor of a mass shooting, who suddenly had bigger name recognition that she did.
Reaction was swift, as companies started pulling ads from her show, after Hogg suggested it. Ingraham was forced to apologize on Twitter. It didn't work. Companies kept pulling their ads and by Good Friday, 11 companies had pulled out. Fox News then announced that Ingraham would be "taking some time off." By Saturday the count had grown to 16 as more companies pulled ads.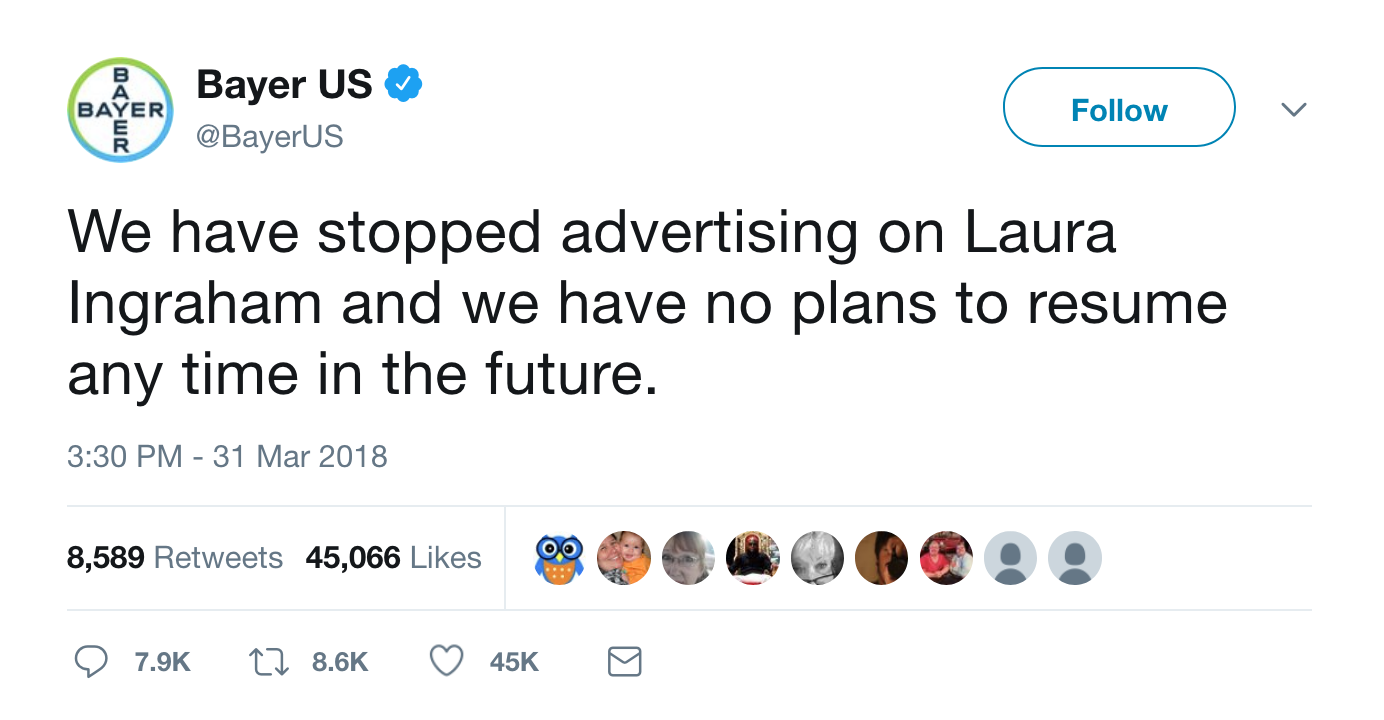 Most of the damage happened in just 48 hours. Moral of the story, don't pick on high-profile school shooting victims if you have to worry about advertisers.

We live in a time when opinions are formed instantly and the consequences of things people say and do occur almost as fast.
The WWE Gets Body Slammed
A couple of weeks ago, the WWE announced the women's battle royal at this Sunday's WrestleMania would be named The Fabulous Moolah Memorial Battle Royal. Moolah was the most dominant women's wrestler of all time, holding the title for many years in the 60's and 70's.
Wrestling fans were shocked by the announcement because stories had recently circulated about how Moolah had allegedly abused female wrestlers she had been training and managing and even forced some into prostitution. With the #MeToo movement gaining such momentum lately, this was seen as strange timing by the WWE.
The announcement prompted fans to bombard WWE's and its wrestlers' social media accounts, a 10,000-name petition was quickly gathered and fans peppered the parent company of WrestleMania's sponsor Snickers with complaints about the naming decision.
Just two days after making the announcement about Moolah, the WWE did a 360 and announced the match would now be called WWE Women's Battle Royal. The reference to Moolah was gone.
Once again, we had a decision, a social media uproar, sponsors getting nervous and consequences.
Social Media Flexes its Muscles
There are major differences in these two stories, but some striking similarities.
To me, the biggest similarity is how quickly decisions were made or reversed based on social media reaction. This never would have happened a generation ago.
If Laura Ingraham would have made the same comments a decade ago during a TV interview, I'm pretty sure no sponsors would have pulled out and she would be working this week. But in my opinion, social media has become far more important than traditional media in shaping public attitudes and evoking reactions. Let's not forget, a written social media post will speak louder than the spoken word because of the way it can so easily get shared. In effect, the written word in social media becomes louder than the spoken word.
For years the WWE found ways to honour wrestlers with questionable backgrounds because it wanted a connection to past glories. Those connections helped create a buzz and, in some cases, recognition and publicity from mainstream media. Wrestlers who used steroids, had criminal records, or had died far too young from substance abuse were honoured on a regular basis.
The decision to put the Fabolous Moolah's name on an event might not have been any different, except for one critical difference that exists today. Social media put pressure on a sponsor. Sponsors bring cash, connections and credibility. They're not to be messed with because their brand is connected to what they're associated with and Snickers didn't want to get close to the sordid story of the Fabulous Moolah, regardless of what a legend she was in the ring. #MeToo is simply too powerful and body slammed the greatest female wrestler of all time and the WWE's plans to honour her.
The lesson from these two stories is, social media can start and spread movements that can bring change faster than ever before.