Media Training in the Mountains

By Grant Ainsley | Tips | [comments] | Posted [date]
---
I do a lot of media training for towns and cities in Alberta. I enjoy every one I do, but once in awhile the assignments are special.

I got to do media training in Canmore three weeks ago and last week I was in Jasper. I love the mountains and appreciate the time I can spend there.

However, when I get to do media training in the mountains AND work with someone dressed as MLA Janis Irwin, you know it was a good day.

Still the Same

The fall is normally my busiest time of the year to do media and communications training and for some reason, which I still haven't figured out, it's even busier than normal this year.
I'm not complaining.
From the middle of October to the end of November, I'm in the process of doing several virtual training sessions and my travels will take me from Edmonton around the province to Calgary, Red Deer and Grande Prairie. I'll also be headed east to Toronto and Niagara Falls, where I'll be doing the opening keynote for a national conference.
Perhaps the best two spots on the fall tour are in the mountains. I was in Canmore to do media training in mid-October and last week I was in Jasper.
When I drove into Jasper a week ago, I remembered going there as a kid, riding in the backseat of the car with my parents. All these years later, I still get the same feeling rolling into town, perhaps because it hasn't changed much in decades. Some of the shops and restaurants are new, but the look and feel is much the same as it was in the 1960's.
Despite the millions of tourists it gets each year, the layout of the town hasn't changed much, likely because of the rail lines that are located just off Connaught Drive.
Not So Spooky

I did media training for the Municipality of Jasper last Tuesday. It was Halloween. I've been doing media training for 15-years, but can't remember doing a workshop on Halloween. That's likely because nobody wanted to book training on Halloween, which is understandable, with so many people coming to work dressed for the occasion.
A couple of the participants were in costume in Jasper. One of the municipalities' managers was Star Trek's Captain Kirk. However, it was Councillor Wendy Hall who stole the show, dressing up as Edmonton Highlands-Norwood MLA Janis Irwin.
Dressed in a wig and wearing fake glasses, I'm sure you'll agree with me that Wendy pulled the look off exceptionally well.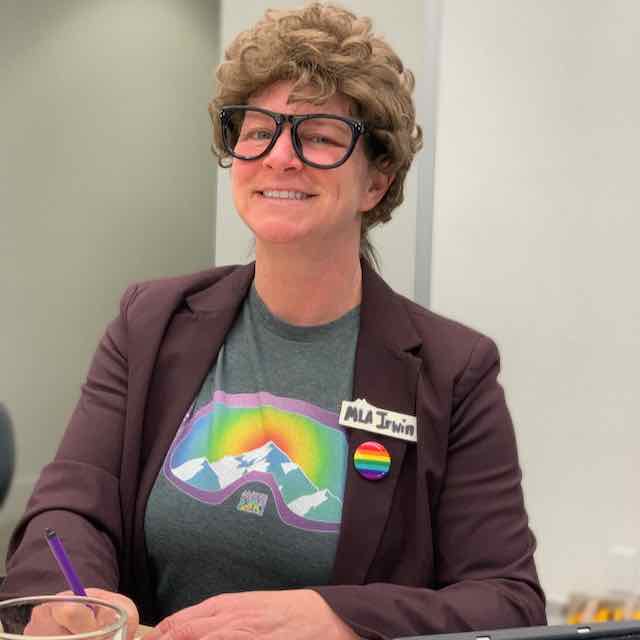 Fangirling

Wendy told me she she's a big fan of Irwin, who was recently named as one of the Top 40 Under 40 by Edify.
As the kids would say Wendy was fangirling big time about Irwin and even did her practice media interview in costume. I wasn't sure if I should call her Councillor Hall or MLA Irwin. It was great.
It was also nice to see a person from one order of government being a fan of someone from another. Far too often today that doesn't happen. It's the opposite. It seems to be much easier to express frustration and anger at a different order of government than support and admiration.
It was also nice for me to do media training recently and help people from Kananaskis and Jasper refine their messages to the people they serve. They're really stewards of their communities and working in the mountains is far different than most other towns and cities in the province. There's an expectation you'll take care of the community you represent. At the same time, you need to make decisions that affect the millions of tourists who come to the area every year. It's a tricky balance.
I've done media training for more than 30-municipalities across Alberta and I know It's not easy being a municipal politician or manager these days. It's even more difficult for those in mountain communities.
Respect.