Trump: The News Media, SNL and Bigly Ratings

By Grant Ainsley | Tips | [comments] | Posted [date]
---
US President Donald Trump was on a Twitter tear the last few days as he criticized everyone from the mayor of London, to anti-gun proponents to Muslim countries. Oh, and he also took several shots at most of the mainstream media.

A consistent theme with Trump for well over a year is the need for him to use Twitter so people can get his thoughts directly, without them being distorted by the news media. I don't buy that, but as a Canadian it has been interesting to watch how the US media has reacted to Trump and his administration.

While several media outlets haven't been totally balanced in their coverage of Trump, there's one thing for sure - he's been good for business.


Fox News = Pravda

I remember being in Los Angeles late last year, just a few days before the US Election. As I flipped through the TV channels in my hotel room I stumbled on Fox News. It was like watching a car wreck – I couldn't turn away as much as I wanted to. I had heard about Fox News and personalities like Sean Hannity and Judge Jeanine, but had never seen it.
I sat there with my mouth open as I watched one political "commentator" after another yell things at the camera like "Hillary Clinton should be locked up" and "Americans need to take back their country and Donald Trump is the man to do it."
As a Canadian we expect, and in most cases receive, balance in our news coverage. There was no balance here. Nothing close. It was mean, angry and shocking. Now I understood what others had been saying about Fox News.
It's been interesting to see what Fox has done since the election and there have been a couple of specific stories that come to mind. When the other three networks led their evening newscasts with a major story related to former FBI Director James Comey and Russian involvement in the US election, Fox led with a happy story about Trump greeting a school class in the White House. Real lede material that stuff.
Days later, when Trump reportedly asked Comey to go easy on Michael Flynn by saying "I hope you can see your way clear to letting this go" Fox News commentators tried to tell Americans that the key word used was "hope" and because he used that word, somehow what Trump said wasn't illegal.
I haven't seen a lot from Fox News, but every time I do, I think about how we used to laugh at the propaganda that came from the official Communist newspaper Pravda in Russia. The bizarre, but always positive angles it took to Russian news stories, was laughable. How was that different from what Americans are getting today from Fox News?
Perhaps Americans are too close to see the connection. As a Canadian, I can't imagine getting news coverage like this on Canadian politics. Sure we have The Rebel, but with Fox News we're talking about one of the four major US networks and it's watched by millions of people.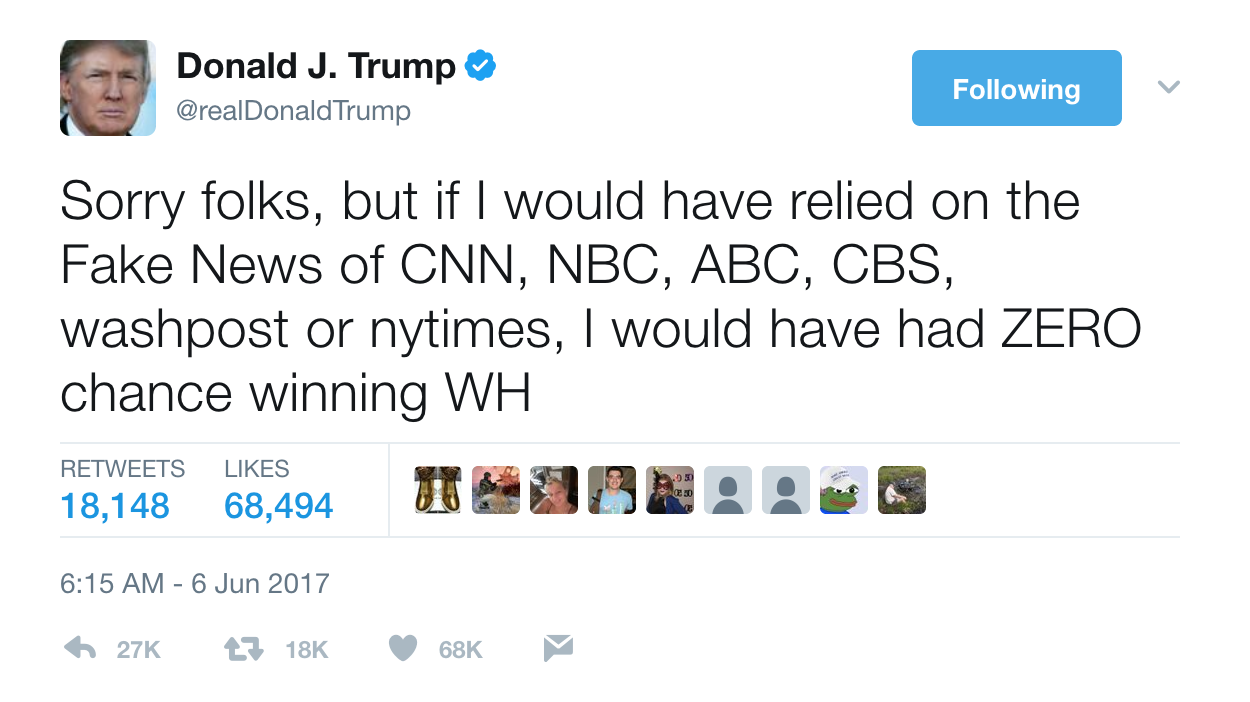 CNN Takes a Dump on its Desk

Before I'm accused of only looking at one side, let me take a moment to mention news coverage on CNN and NBC. While it's been nothing like the vile, bizarre coverage on Fox, there's no question in my mind CNN in particular has provided coverage that's almost always on the negative side of any Trump-related issue.
In fairness, there's never been a US President like Trump and there's lot of material to use every week, but it's pretty clear CNN has taken an opposition role to pretty well everything Trump has tried to do.
Just a few days ago CNN's website had videos on the following topics: "Ivanka's worst week in Washington?", "Internet mocks Spicer's disappearing act and "Anderson Cooper reads best covfete tweets."
Then there was the famous Anderson Cooper line from an interview he was doing "If he (Trump) took a dump on his desk you would defend it." Cooper apologized later, as he should have. I found the comment small, but telling and yes kind of funny too.
Trump is a Ratings Machine
Something else that has been happening for over a year in the US is that Trump is getting more and more exposure because he's good for ratings. The networks know the more they talk about the latest Trump controversy, the bigger the ratings they'll get.
Saturday Night Live has received its biggest ratings in the past 22 years, strictly because of Trump and how its managed to capitalize on that by getting Alec Baldwin to play Trump, Melissa McCarthy to play Sean Spicer and Kate McKinnon to spoof Kellyanne Conway. This is happening for SNL after several years of so so ratings.
The Late Show With Stephen Colbert is enjoying its best ratings since its premiere in 2015. On many nights Colbert has been beating the Tonight Show Starring Jimmy Fallon and the two shows have been in a fight for the top spot in the late night TV ratings for weeks, something that didn't happen in the pre-Trump days.
Colbert's opening monologue almost always includes some pretty severe swipes at Trump. Recently he got into some hot water for a joke that referenced a sex act between Trump and Russian leader Vladimir Putin. A Twitter campaign started to have Colbert fired. His ratings actually went up and this is how he reacted.
When Colbert reflected on Trump's first 100 days in office, he also noted how his ratings have gone up and with a laugh thanked Trump for his service and then said "And now I feel dirty."
The Bottom Line
As much as Trump has been mocked in the media, roughly half of those who voted in the US election seven months ago tomorrow voted for Trump. Millions of people are still happy they did. To me, that's the most amazing part of the Trump story.

I don't understand their support, but that's democracy and we all support that.
Regardless of what happens to Trump this week and in the future two things are clear – The media has taken sides and he's good for business.
Sign Up For My Blog
There's no need to search for my blog each week - get it delivered to your inbox every Wednesday morning. Sign up here and get a free download for doing so. You'll receive my e-book Bulletproof Your Brand: What Every Media Spokesperson Needs to Know.