Reporters Are Not Cheerleaders

By Grant Ainsley | Tips | [comments] | Posted [date]
---
On Saturday night, Edmonton Oilers Captain Connor McDavid had a goal and an assist to lead the Oilers to a 5-4 win over the LA Kings, allowing the Oilers to advance to the second round of the Stanley Cup playoffs.

However, it was a short piece of McDavid video that went viral two days before the game, and the reaction to it, that grabbed my attention.

Once again it became clear that far too many fans don't understand the role of journalism in sports, especially in a city like Edmonton at playoff time.

The Rishaug Video

Last Thursday, TSN reporter Ryan Rishaug was covering a practice of the Edmonton Oilers. He noticed Oilers superstar Connor McDavid wasn't skating as well as he normally does and as McDavid glided towards one corner of the rink, Rishaug shot some video of McDavid doubled over, in apparent pain.
Although it was a little grainy, it was clearer than the Zapruder video and it seemed as though McDavid was nursing an injury.
Rishaug posted the video to Twitter. Here was the Tweet.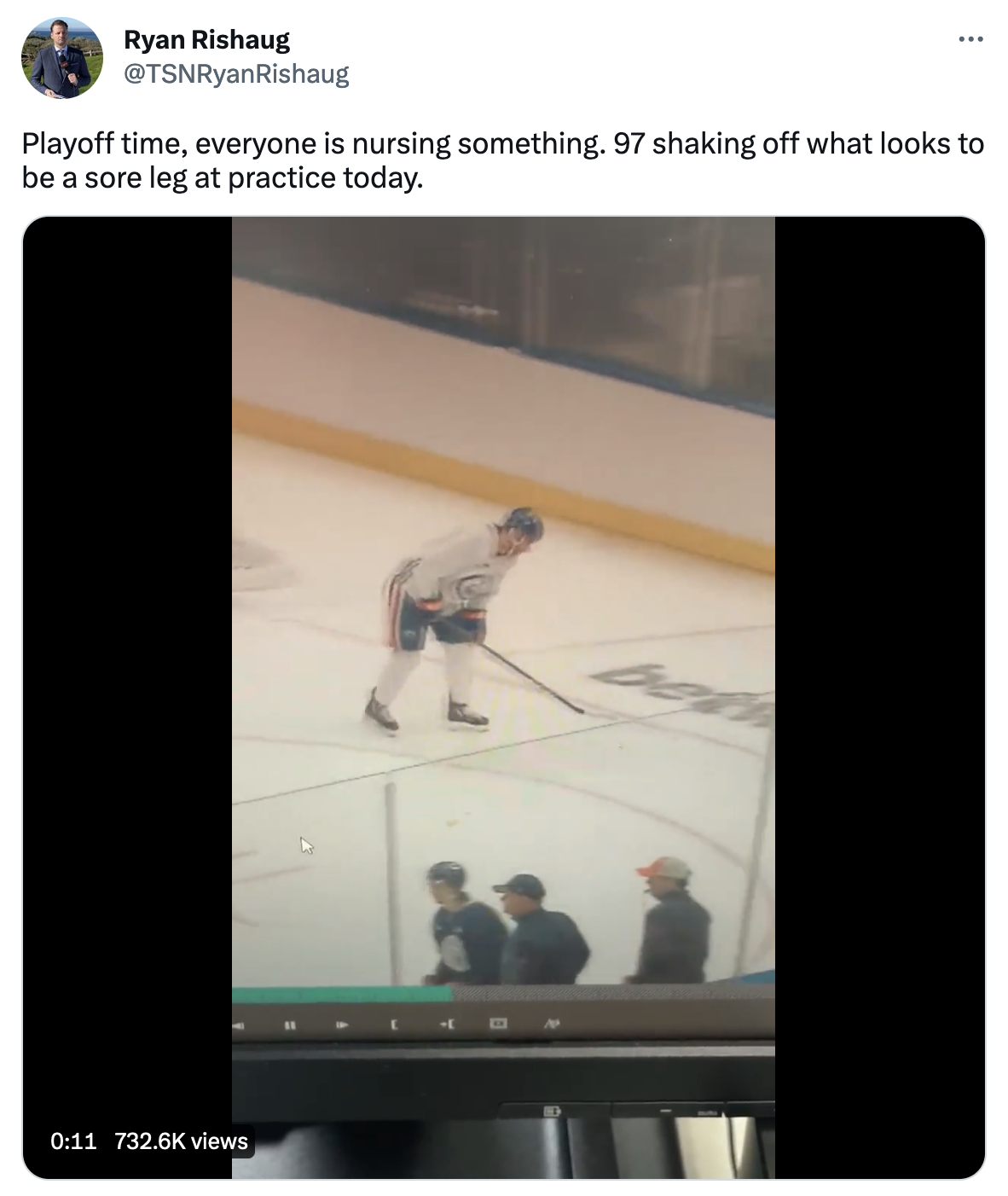 I saw the Tweet not long after it was posted. My thoughts were: Wow, this is news to me, let's hope McDavid is okay.
Before continuing to scroll through Twitter, I looked at the replies to Rishaugh's Tweet to see if the reaction was the same as mine. It wasn't.
Most of the replies wondered why Rishaug posted that video to Twitter, wondered if he was trying to help the LA Kings, ordering him to delete the post and then there were comments much worse than that.
Around 30-hours after he posted the video, it had 2.6 million views and 735 replies, many of them wondering why he posted the video.
He's Not a Cheerleader

I came to Rishaug's defence on Twitter (not that it mattered much.) I explained he's a reporter and just doing his job.
It's clear the Oiler fans don't understand that, or perhaps their views are clouded because their team is in the playoffs, which in Edmonton is more important than freedom of the press apparently.
Ryan Rishaug is employed by TSN. He was covering a practice, which means he goes there trying to find some newsworthy developments to report. It could be the coaches shuffling the forward lines, or defence pairings. It could be a player in a non-contact jersey, which means he's hurt, or a player not practicing.
He is not employed by the Oilers, so he can report what he sees. He can take video and post it where he wants. Obviously getting 2.6 million views tells you putting it on Twitter was the right move.
He's not there as a cheerleader. He's not there to cover up injuries and he's not at practice to look the other way when there's something to report. He is there as a journalist.
Connor McDavid is the best hockey player in the world. If he has an injury, especially one that hasn't been reported by the team, isn't that news? Rishaug bluntly says that if he saw an injury and covered it up because he was trying to favour one team, he should be fired.

If the Oilers didn't want anyone to report on a practice, they wouldn't let reporters into the rink.
Lower Body Injury

Reaction from the fans is always interesting, especially at playoff time.
Some seem to think they should follow the NHL's ridiculous guidelines of only referring to injuries as upper body or lower body. The NHL is the only league that allows teams to get away with this. Why would fans want reporters to toe the league line not give injury information on players?
Two wrongs don't make a right. Just because the NHL gets away with it (for now anyway) doesn't mean reporters shouldn't provide injury information, especially when they see what appears to be an injury that hasn't been reported by the team. Isn't that just good journalism?
It doesn't just happen in hockey. It happens in all sports. Early this year, Kansas City Chiefs star quarterback Patrick Mahomes sprained an ankle in a playoff game. During the week leading up to the Super Bowl, that was the biggest story. Should reporters covering the Chiefs' practice not have written about or talked about how he looked in practice and whether he had a limp?
Corporate Sports Inc.

In a way though, I can't blame fans for being confused how a sports reporter should do his job.
There are so many grey areas these days when it comes to the same companies owning major league sports teams and cable sports networks, that separating journalism and cheerleading can get difficult for anyone.
As an example, the Toronto Blue Jays are owned by Rogers, which also owns Sportsnet. It televises Blue Jay games. Can anyone working for Sportsnet truly be free to say what they think or believe about the team? I doubt it.
It's far easier to pump the tires of the team, talk about what's positive, and lob softball questions at the team President and CEO about how beautiful the new renovations look.
There's also cross ownership involving TSN and the Toronto Maple Leafs. Saying good things about the home team when it wins a playoffs series is just good for business.
When a reporter shares something negative about the "home team" I can see why fans get angry. They're confused about roles. This situation has existed for years to a certain extent. Today, cross ownership, especially in Canada, is far more prevalent than ever. You almost need a program to know who works for who.
Fans should find it refreshing that sports reporters report on what they see and hear. That's called journalism. That's something that's being challenged every day.
These days, the most popular sports announcers are often those who are homers for the home team. Fans love their "passion", obviously not caring for a second they're also incredibly biased.
We should appreciate what Rishaug did far more than criticize it.