Twitter, Name Calling and Alberta Politics

By Grant Ainsley | Tips | [comments] | Posted [date]
---
I was at a Christmas Gala event in Calgary this past Saturday night organized by the Electrical Contractors Association of Alberta. Mayor Naheed Nenshi put in an appearance and made a short speech just before the dinner started.

The Calgary Mayor mainly talked about the economy and some of the major construction projects just getting underway there, but he also went out of his way to mention the nasty political environment that seems to be everywhere these days. He called on politicians from all levels and beliefs to work for the people and set aside the nastiness.

I agree with Nenshi about what we're seeing politically in Alberta these days, especially how some politicians and their staff are using Twitter to roast people like Nenshi and others.
The Nasty Side of Politics
I was scrolling through my Twitter feed one afternoon last week when I came across a Tweet from Alberta Justice Minister and Calgary Elbow MLA Doug Schweitzer. He was retweeting a story from Calgary Sun columnist Rick Bell (see below) and added his two cents to Bell's already opinionated take on the municipal tax situation in Calgary.
Schweitzer's Tweet was "liked" by fellow cabinet Minister Kaycee Madu, who by the way, is the Minister who deals with municipal politicians like Calgary's Mayor Nenshi. To review, the Calgary Sun ran the story and Tweeted it online, Schweitzer retweeted and added his biting comments and the minister who deals with municipalities endorsed those comments on Twitter.
Okay then. It's nice to see the politicians are getting along so well.
Not long after, fellow Calgary MLA and former Finance Minister Joe Ceci shot back at Schweitzer for his comments in a Tweet.
Two hours later, Edmonton City Councillor Michael Walters was on Twitter to take a shot at Municipal Affairs Minister Madu. The day gave us a classic "Twitter Triple Shot".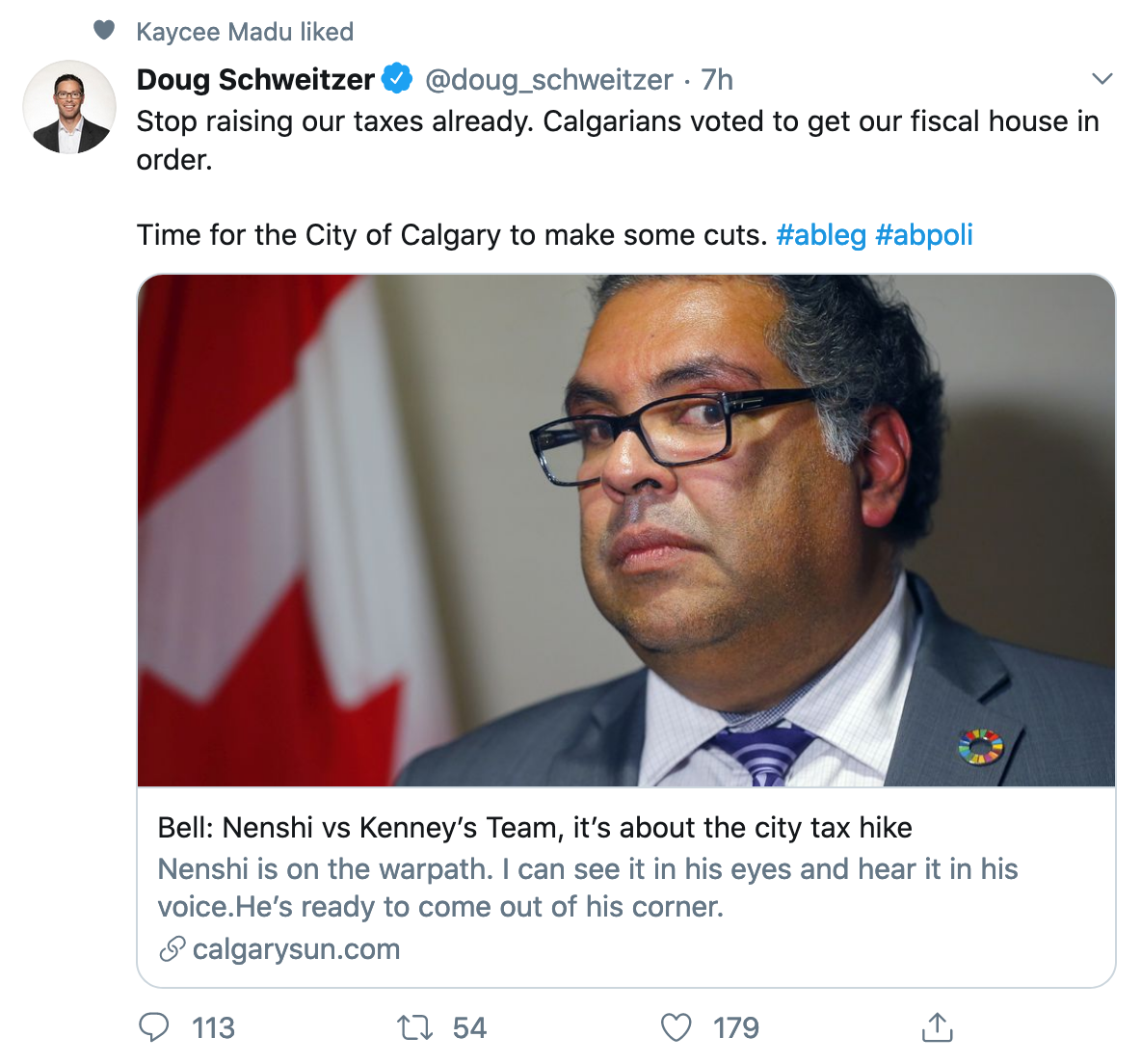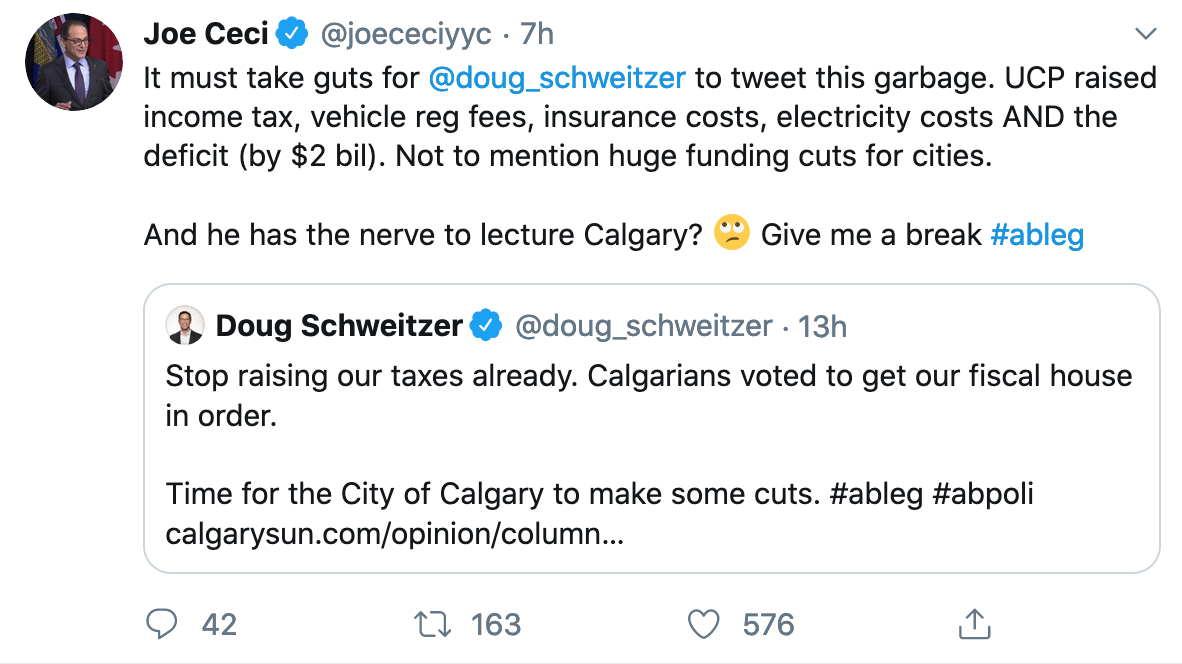 Using Twitter as a Weapon
I guess this is what it has come to. Provincial and municipal politicians taking shots at each other in social media while vying for the attention and support of those on Twitter.
There's something about this that seems wrong to me. In my opinion, it's a different story if a provincial politician does a media interview and takes a shot at a municipal politician, or vice versa. The news organization acts as a bit of a filter, but with social media anyone can say what they want at anytime. It's too easy and it's too negative.
Don't get me wrong. Twitter can be a very powerful tool. I think Donald Trump has proven that he doesn't need the news media to get his messages out to the world. He does it through Twitter.
If the exchanges I saw on Twitter last week are any indication, we can expect to see several more Twitter skirmishes like this in the coming weeks and months. An important point seems to be missing though. These aren't Twitter battles between rival political parties. These are exchanges between different levels of government. People who are supposed to be working together for everyone.
Perhaps politicians should remember there's only one taxpayer. Calgarians pay the salaries of Nenshi, Schweitzer and Madu. It would be nice if they got along and worked together instead of trading shots on Twitter.

I don't expect that to happen though. Once the name calling starts, it usually continues. It's the new normal.

Does It Really Matter?
Setting aside my desire to see politicians playing nice in the sandbox, we need to ask whether any of this matters?
Do voters really care that provincial cabinet ministers are accusing municipal politicians of spending too much of the taxpayer's money? Does it matter that municipal politicians are sending Tweets telling cabinet ministers to back off on the condescending attitude? Finally, does it matter that press secretaries for cabinet ministers and Premier Kenney are using Twitter to take shots at other politicians and their critics?

Have we reached the point where this rhetoric goes in one ear and out the other? Perhaps we have, but the Tweets caught my attention because it's something I haven't seen much before between different levels of government in Alberta.

I have a hunch this is just the start. If you don't like your timeline being filled with warring politicians just unfollow them and hope your friends do too. Then whatever they're saying to one another really won't matter. In the meantime, this seems like the new way of doing business in Alberta politics.
Do You Have Some PD Budget Left?
If you need to use some personal development dollars before December 31, why not take my Online Media Coaching program? It's three hours of one-on-one media training and you can take it at anytime from anywhere.

Photo credit: Toronto Star