Why Should Anyone Be Surprised?

By Grant Ainsley | Tips | [comments] | Posted [date]
---
Last Wednesday brought what might have been the biggest day of job cuts in Canadian broadcast media history. Bell cut 1,300 jobs and will close or sell nine radio stations in Canada, including TSN 1260 in Edmonton.

Many people expressed shock and surprise. I felt differently. While I felt badly for the people who lost their jobs, many who I have watched or listened to for years, I wasn't surprised.

We've seen this sad movie play out too many times in media, because it's a dying industry.

I Could See it Coming

It was 1992. I was News and Public Affairs Director at 96 K-Lite Radio in Edmonton. I also did the morning news and either produced or hosted the daily talk show.
It was a great job. It was happy with what I was paid and we had some really talented people in our newsroom. We had a newsroom of eight people and our sister station, CFCW, had nine. We could cover any story we wanted at the Alberta Legislature, City Hall, or anywhere in north central Alberta. We often beat the newspapers or big TV stations with some of our reporting. Life in radio was good.
I started to see problems on the horizon though. A trend had developed where radio stations would lose a reporter and wouldn't fill the position. I also saw situations where two people used to work a morning run on the air and one would be let go and the other would have to do all eight morning newscasts by him or herself.
That hadn't happened at our station, but the senior management at our station had gone to the CRTC to get the station's licence renewed. They asked for, and got, a drastic decrease in the amount of time that needed to be devoted to news each week. It was only a matter of time before our station would start job cuts as well. Less news meant fewer newspeople were needed to read, write and report.
Although I could have hung in there for another year or two, I decided to leave the industry and haven't regretted the decision.
Black Wednesday

Last Wednesday, as the sky got ready to unload its first steady rainfall of the year in Edmonton, the news broke that TSN 1260 radio had gone off the air permanently at 9:00am, right after the morning show ended.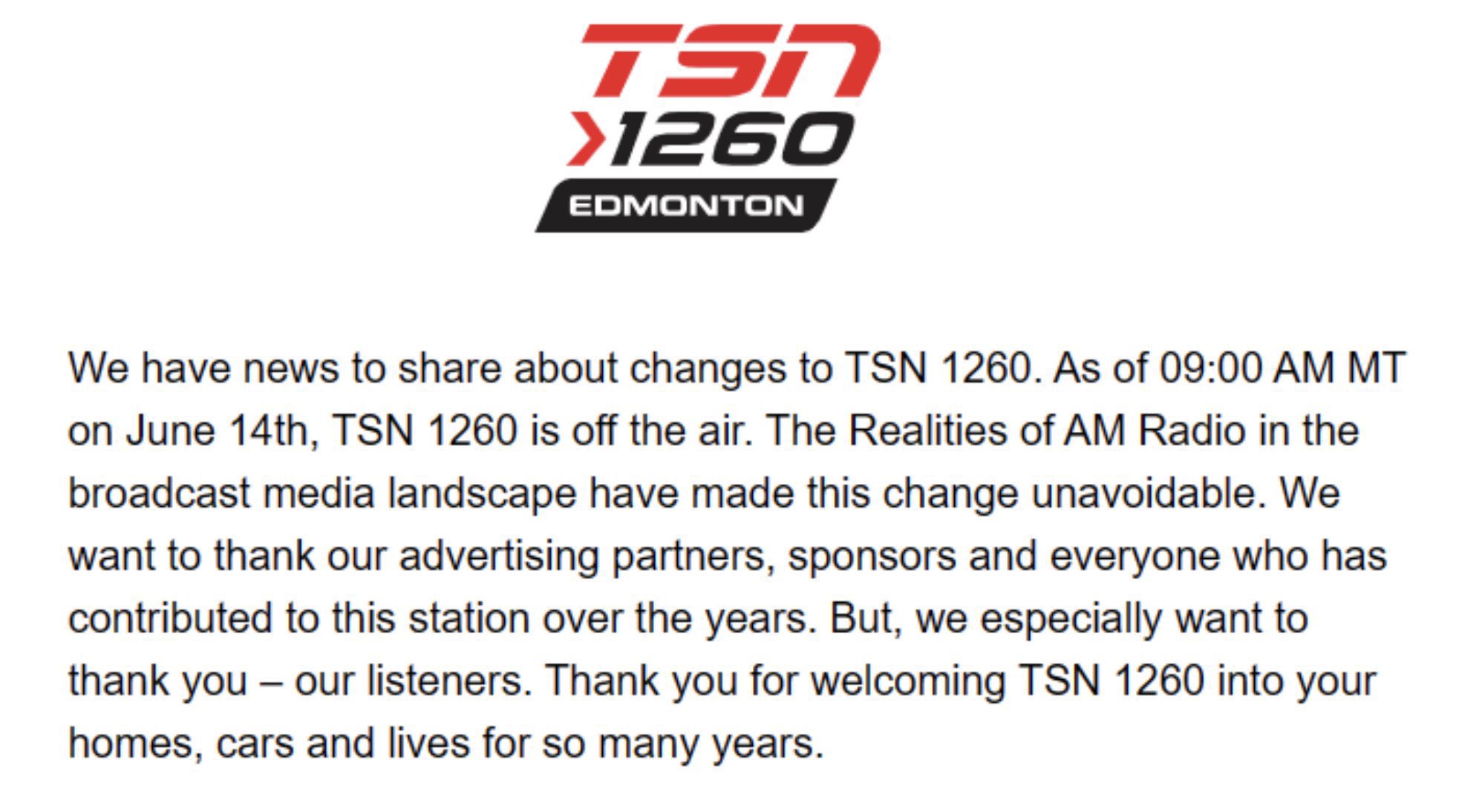 We soon found out that was only the tip of the iceberg. Bell announced it had laid off 1,300 people and closed six radio stations. Three others will be sold.

Later in the day, we found out that veteran CTV journalists like Paul Workman, Glen McGregor, Tom Walters and others had been let go and CTV would be closing the news bureaus they had worked in. Bell Media said it had no other choice. Even national news coverage had been gutted.
I feel for everyone who lost their jobs, especially the people in Edmonton at TSN 1260, who I listened to and chatted with over Twitter. It was hard to watch the video of former TSN 1260 morning man Dustin Nielson last Friday. Losing your job can be both financially and mentally traumatic. It can take a long time to recover from and even if you do, you miss what you were doing and the people you did it with.
I guess that's why Bell still has its Let's Talk Day every January to help with mental health.
Nobody is Safe

As I watched the comments about the closures stream in on Twitter, I realized my reaction was different from almost everyone's.
I wasn't really surprised.
How can you be surprised when this has been going on for over two decades? Every few months there have been a raft of layoffs in media. Newspapers have chopped reporters, shut down printed editions and moved to digital, TV stations have dumped anchors and reporters, or sports departments. I just wrote about that last week. Radio stations have cut staff, drastically changed programming, or both.
Even when I was in radio it was a shitty business. At times announcers would go on holidays only to come back to find somebody had taken their on-air slot and they were told the station had decided to go in a different direction and their services were no longer needed. Nice.
At least back then many radio stations in Canada were owned by smaller companies, as were weekly newspapers. Now it's all corporate ownership. They don't care about your feelings.
The vast majority of newspapers in Canada are owned by Postmedia. Almost all TV and radio stations are owned by Bell, Rogers and Corus. When those companies are making money on phones and internet, times are good and they can afford some losses by their radio stations. However, when their share price gets hammered because of the economy and more competition on their phone business, they need to make changes. Their radio and TV operations need to pull their weight and if not, cuts are made.
TV and radio conglomerates have deep financial problems these days. Newspaper chains obviously have big issues as well. They're not even making enough money these days to pay off their creditors, much less make a profit.
The business model for media outlets is simple. Advertisers pay for the space and time. Hopefully there's a profit at the end of the year. One day advertisers will look around and realize they have no more newspapers and TV and radio stations to advertise on. I'm not sure what they'll do then, other than pump more money into Facebook and Google.
You and I will be the big losers because news coverage will more or less disappear and governments will be able to do what they want without fear of reprisal. Let's hope a few media giants survive to bring us the news and keep government honest.
Don't be surprised the next time it happens. When Wayne Gretzky was traded we said "Well if Gretzky can be traded, I guess anyone can be traded. However, for the last 35-years we've watched pro athletes get traded and we keep being surprised. When Lisa LaFlamme got fired last summer by CTV we said "If Lisa can get fired, then anyone in media can get fired."
Why should we be surprised by what happened last week?
One final thought on this. The saddest part is, there's not a single person working in Canadian media today who knows for certain their job will be there next week. Not one.