Before You Buy a Condo Read This

By Grant Ainsley | Tips | [comments] | Posted [date]
---
Imagine being woken up at 8:00am and being told you have 30- minutes to pack your things and move out of your condo because it's been condemned. That's exactly what happened to residents of a 44-unit condo in Fort Saskatchewan, just outside Edmonton, last Friday.

The City of Fort Saskatchewan condemned the condo building because of structural issues. Once again in Alberta, a condo that should stand the test of time for decades, will need major repairs and once again owners and residents are left holding the bag.

In a previous career I was in the housing industry and I've seen this movie one time too often.
What a Way to Start Your Weekend
I'm sure the August long weekend didn't start the way Brad Ward wanted. Ward is Fort Saskatchewan's Emergency Services Director and he held a news conference to talk about why a 44-unit, four-storey condo building in Fort Saskatchewan, needed to be evacuated after an engineer's report showed it was structurally unsafe.
At news conferences like this, there are more questions than answers. Although Ward did a pretty good job at the newser, he couldn't be expected to have answers to every question including some of the really difficult ones. They include (in no particular order), Who was the builder? Why was the building constructed this way? Was there negligence on the part of the builder? What about the municipal inspectors, were they at fault if they approved it? Why did it take so many years for these problems to be uncovered? Who provides the warranty? What does it cover, if anything? Are condo owners on the hook for their own repairs?

The biggest question of all for me is – How in the hell can this happen to a small condo complex in Alberta again?
The Housing System is Like a Puzzle
As I finished typing that last question, I realized I already know the answer. You see for 12-years I was the Executive Director of the Alberta Home Builders' Association, an organization representing Alberta's home building industry. It's been rebranded as BILD Alberta and now includes land development companies as a larger part of its membership.
People need to understand that new home and condo construction is regulated by government, but there are so many holes in the system, far too many of these shoddy condo projects can slip through the cracks.
This is at least the fourth condo complex in Alberta that ended this way. The biggest problems to date came in Fort McMurray and Leduc. Much the same thing happened. Such shoddy construction left everyone wondering how in the hell this could happen in a regulated industry in a country like Canada.
You need to understand the home building industry is cobbled together at the national, provincial and municipal levels of our country. Building codes come from Ottawa and provinces adopt them, with some changes. Most changes make sense, while some are more questionable. Does building science always win, or are there political or economic reasons for changes being made?
Then it's up to municipalities to play referee - basically to make sure the rules are being followed when new single-family homes and condos are constructed. But you see that's where part of the issue comes. Municipalities are only required to inspect for basic things like electrical and heating. They don't have to inspect for shoddy workmanship that leads to cosmetic issues. In some cases though poor building construction can lead to water penetration issues. On top of this, different municipalities enforce the rule book differently. Some are tough, while others aren't as picky. It's human nature.
Are You Covered?
Then there is the new home warranty system. It was bolstered five years ago and insurance companies are required to offer the coverage as depicted below from the Alberta government's website.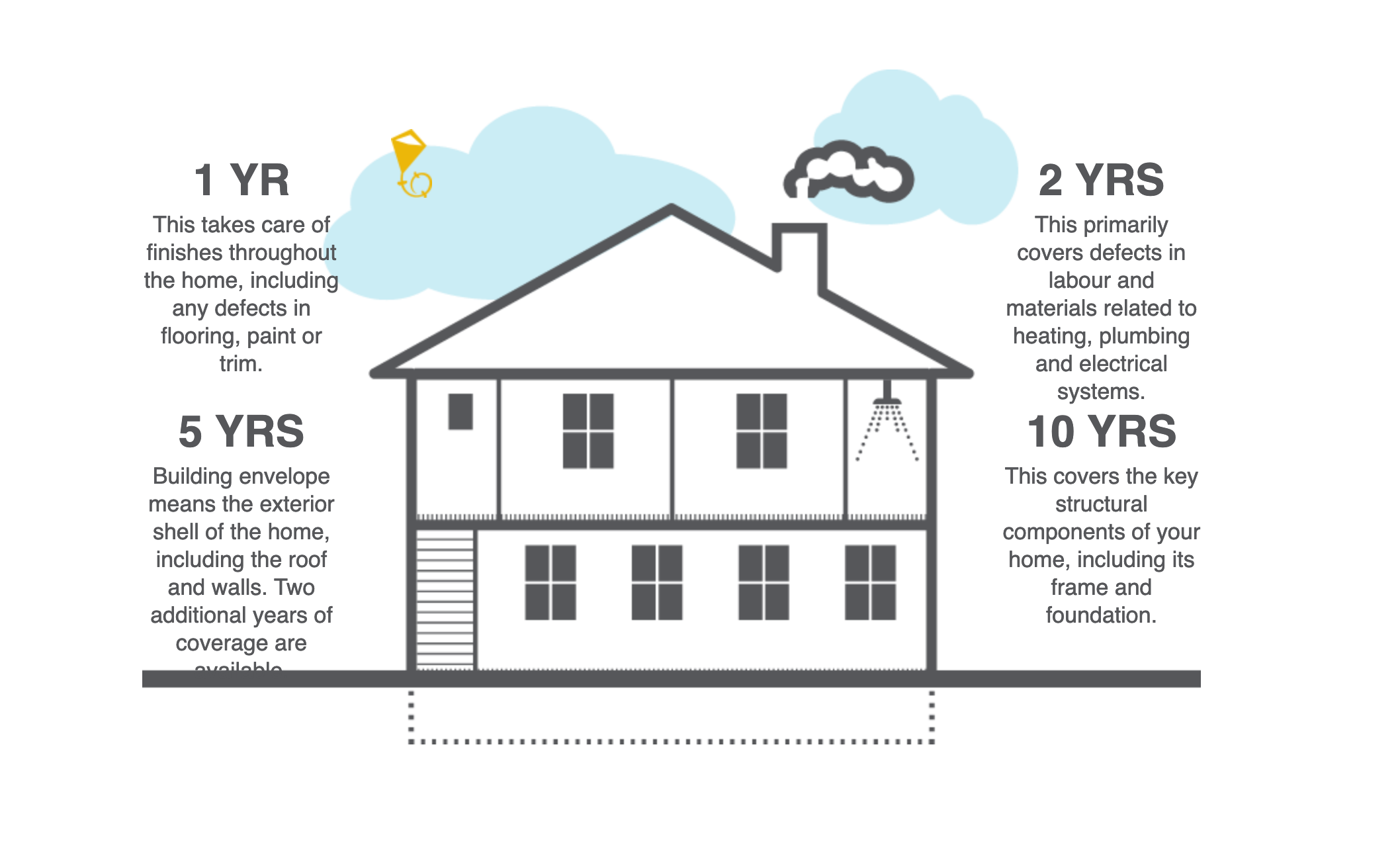 It all looks pretty good, but this is NOT bumper-to-bumper coverage like we have on our cars and trucks. If your driveway starts to crack after two years are you covered? In a word – no. If a major problem occurs to your electrical system after three years are you covered? Probably not. If your roof starts to leak after six years are you covered? Generally speaking - no.
What a new home warranty really is, is a limited warranty. It covers the basics. It doesn't cover everything. Insurance companies could cover more if the government forced them to, but there would be a big cost for that and nobody would want to pay, so a balance is struck and while Alberta's new home warranty system is pretty good, it won't cover everything and won't bail everyone out.
Condo Concerns
In the more than a decade I spent running the home builders' association, it was rare to have a problem with a single-family home constructed by a reputable builder. From time to time a buyer got a lemon, but that didn't happen often. The complaints were mainly about cosmetic issues, or poor communication. I am speaking about reputable, experienced home building companies. There are some who aren't reputable.
Condos are different. Due to the fact there are differences in construction from single family homes, it takes more expertise to build them properly. That usually means good tradespeople are required, better building materials and components and a higher quality of construction to ensure water penetration issues are reduced. Quite frankly, the problem is, condos almost always cost less than single family homes and are aimed at a lower price point in the housing market. That's where the rub comes. Can you offer a high level of construction quality on a smaller condo complex and still bring it in at a lower price? You can but it's very tricky. Consumers paying $250,000 for a new condo in a three-storey walk-up have the right to expect they're getting a quality product. It may look good on the outside, often quality is lacking.
Before you buy a condo, ask the builder some serious questions including – What other condos have you built? What does your warranty cover? How long have you been in business under this name? Then do some research. There are good condo builders who have been in business for years, but there are also companies with little experience who are in the game for a quick buck. Why give them your money? Just because they have a better price and nice-looking countertops?
Far too often condo problems can be traced back to builders you've never heard of, some of them without a third-party warranty and the consumer is left holding the bag. Those responsible for regulating the industry need to do better because we find ourselves in a situation with everyone pointing fingers and lawyers and judges will again eventually determine the outcome.