Can You Ask Them This Question?

By Grant Ainsley | Tips | [comments] | Posted [date]
---
If I never hear the phrase "We're all in this together" again I'll be happy. We're not in this COVID thing together, but we are seeing a strange alliance between disgruntled Albertans and the news media.

There continues to be rising opposition to virtually anything being proposed by Premier Jason Kenney and other government officials. Even a plan to return to more of a normal life last week was panned by critics.

Perhaps the most interesting development has seen frustrated Albertans using social media to contact reporters to have them ask specific questions at news conferences, something I can't remember happening before.
Citizen Journalists
I started seeing it last year during the early days of COVID. People, from all walks of life, were on social media asking reporters to ask political leaders and public health officials certain questions at news conferences.
Here in Alberta this year, it has become even more pronounced. Here are a few examples from Tweets I saw last week just after Premier Kenney announced that Alberta is only a few weeks away from opening up this summer. These questions mentioned the Chief Medical Officer of Health, Dr. Deena Hinshaw specifically.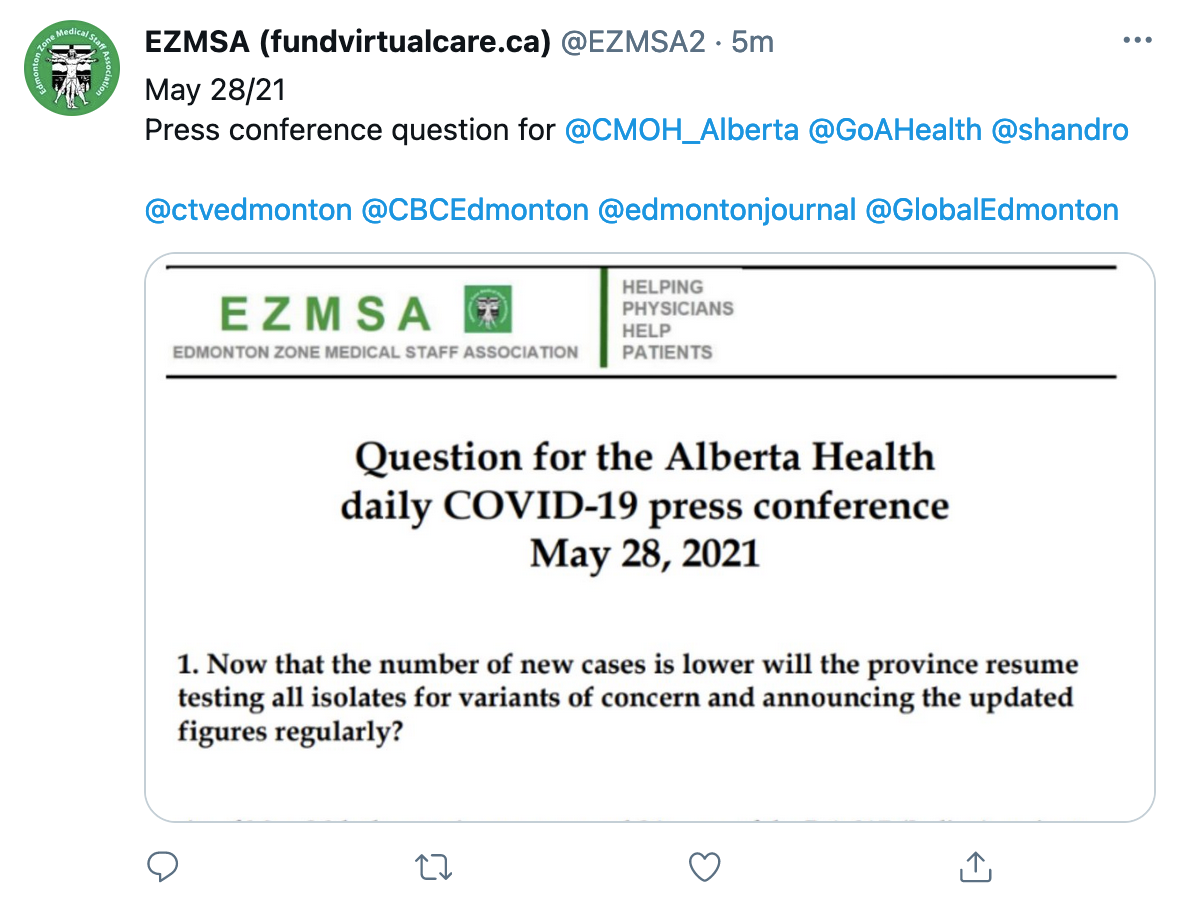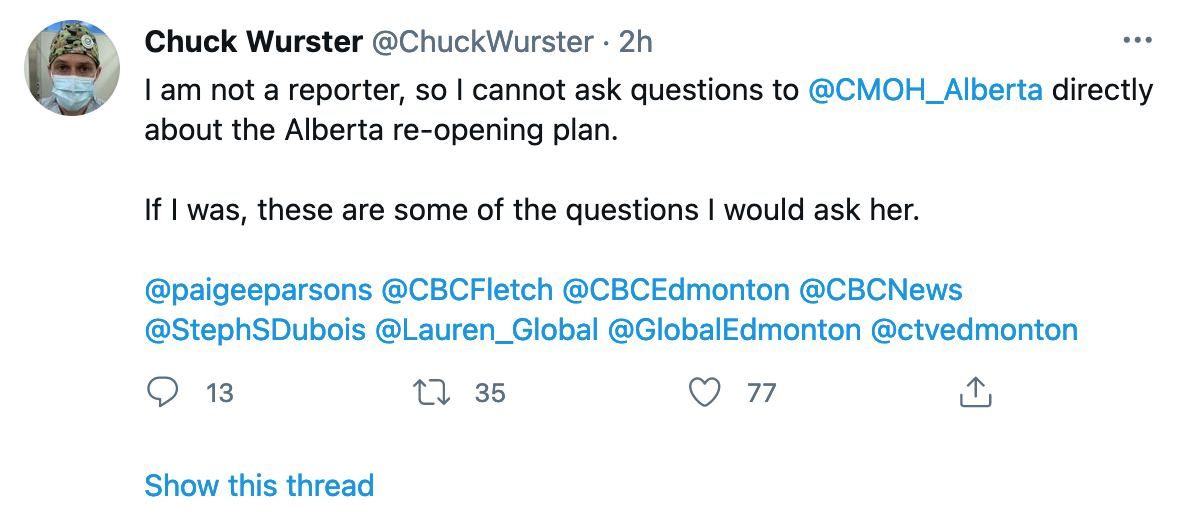 Chuck is an Edmonton emergency room doctor and had a number of questions that were so good it would make any reporter proud to ask them.
The People Aren't Happy
Why is this happening?
The answer is pretty simple. People in Alberta aren't happy with the way they're being spoon-fed information from people like Premier Kenney and Dr. Deena Hinshaw. They've seen their act for months and have seen them dodge questions and not give real answers. People have real questions they want answered. The best way of doing that is sending them to reporters.
I don't blame them. As a former journalist, I've watched many of these afternoon news conferences starring Kenney, Hinshaw, or both, and imagined that if I was back in the media and got called to ask a question, I would have a good one ready. By the way, I'm usually pretty proud of myself for some of the zingers I've come up with.
One aspect of these news conferences that has gone unreported is how Dr. Hinshaw has moved from someone unsure of herself in the media, to a pretty accomplished media spokesperson. She seems ready for every question she's been getting lately and I'm sure the people around her have prepared her well. Unfortunately, this means even less information for the media and the public, despite the questioning from reporters.
Last week when Kenney announced his summer reopening plan, many Albertans were confused at how we could open so quickly. Others were outraged and made their thoughts known on social media. A day later, Dr. Hinshaw said the reopening plan had her full support. This is a new take on the line "We're all in this together."
This produced more anger and more questions. For over a year we've been told we're not safe until two weeks after we get our second vaccination. Now it appears Kenney, supported by Hinshaw, are quite happy with 60-70% of people getting their first dose. The goalposts have been moved. Again.
The Premier's Big Gamble
Thankfully we have reporters to ask these questions. The pandemic has given us many lessons and to me, one is the importance of the news media.
I know there are people who aren't happy with the media. They complain the media is working with the government and is complicit in the big COVID con.
Please, just stop it.

One of the "hard to put your finger on, but extremely important" things that has been eroded during the pandemic, is trust. Our trust in government, politicians and public health officials has gone downhill. That's not just what I think. A major public opinion survey confirmed it a week ago.
The media hasn't been perfect covering the pandemic. Lord knows the biggest story of our lifetimes would have received better coverage if we had twice as many reporters and media outlets that served different audiences. Overall though, media coverage has been good and overworked reporters are doing their best.
I think seeing so many people wanting reporters to ask certain questions is a testament to that.
What everyone needs to understand though is, reporters can only ask the question. If Kenney or Hinshaw give them a string of BS when they answer it, it's pretty hard for a reporter to call them out, which I think, is what many people would like to see. People need to draw their own conclusions from the responses they get.
This is a very different position for reporters to be in. Certainly one of the jobs of the media has is to hold politicians and public officials accountable. Despite the best intentions of the media though, it's been a struggle to do that. We all want the same thing – a pre-pandemic lifestyle. How we go about it though is where the rub is.
People have been watching news conferences live on television and online and you can almost hear cheers erupt when a reporter hits a politician with a tough question. Many Albertans are so upset by the way the government has handled the pandemic that they get joy out of Kenney or Hinshaw being forced to navigate their way through answering a difficult question at a newser.
Here's the bottom line though. If we have a great summer, filled with returning events and laughter with family and friends and no surge in cases, then Premier Kenney and Dr. Hinshaw are to be commended and thanked for their aggressiveness. However, if we get a fourth wave in a couple of months and things go sideways, Kenney and Hinshaw will totally be to blame. It's the ultimate political risk-reward.

Imagine the questions you'll want reporters to ask then?
Here's a Positive Sign
I got a request last week for a media training presentation from a group planning to meet in person this fall in New Brunswick. It was so nice to hear from an organization that's planning to get together at an off site location. If you need more info on my media training workshops click here.