Caught on Video Forever

By Grant Ainsley | Tips | [comments] | Posted [date]
---
Like so many news stories, the one about Kelly Pocha was big for a few days and then disappeared. Pocha was the woman who went on a racist rant last spring in a Denny's restaurant and it was caught on video.

The last we heard from Pocha, she had been given her job back, but I recently learned she's now left her position at Cranbrook Dodge. That hasn't been reported anywhere in the media.

What happened to Pocha, and many others for that matter, makes me wonder what the punishment should be for people who do these things, or do something stupid in social media.
The Denny''s Racist Rant
In case you missed the story, or have forgotten the details, here's what happened.
On April 21 of this year Pocha and her husband were in Lethbridge. She admits she had been drinking and late that Saturday night they went to a Denny's to have something to eat. Kelly felt a group of men at the next table were staring at her, an argument started and one of the men recorded it on video.
Here's a portion of a news report from when it happened.
Fired, Rehired and Then Gone Again
In less than 48 hours, Pocha was identified as the Controller of Cranbrook Dodge. When management got word of what happened and also likely got some negative feedback from customers, they fired her. Owner Dave Girling simply said "It was the right thing to do."
Lo and behold, in June it was reported in the media that Pocha got her job back at Cranbrook Dodge. Ownership wouldn't say why, but labour lawyers quoted in the media speculated the dealership likely changed its mind when it found out how expensive it would have been to fire her legally, or in other words, with compensation.
I was recently doing research on Pocha's story to include it as a short case study in my Surviving a Social Media Meltdown keynote presentation that I do at conferences. I scanned the Cranbook Dodge website to see if she was still there, but another person was now identified as the dealership's Controller.
I called Cranbrook Dodge and talked to owner Dave Girling. I told him who I was, what I do for a living and why I was calling. He confirmed that Pocha was no longer at the dealership. When I asked him if he could explain why, he told me it was none of my business and the company has decided to move on from the situation and wouldn't be commenting further.
This hasn't been reported anywhere in the media that I'm aware of, although her return to the dealership was widely reported last spring. Perhaps it will still make the media somewhere now that I'm mentioning it in this blog.
Does the Punishment Fit the Crime?
It would be nice to know the reasons behind Pocha's departure, but until some digging takes place by reporters we'll be left to speculate (another reason why the media is important.)
It would be reasonable to think that Pocha's return wouldn't have been easy for her, many of her fellow workers and the dealership itself. I saw a lot of the reaction in social media when she was fired and the decision was widely applauded.
That's understandable. The video is pretty damming. Pocha told the media "I'm not that kind of person," but in the video she clearly was that kind of person and that's all people need to see.
We live in a society where social media allows people to pile on those like Pocha, beating them into submission and turning their lives into hell, all because of one outburst caught on video. I'm not sure what the punishment should be for something like this, but I don't think making somebody spend the rest of their life with it hanging over them is the answer.

I am not in any way defending Pocha, or what she said or what she did. Any form of racism is wrong. The point I want to make is, people need to take a step back and think about the power of their words on social media. Reactions can change lives. I'm sure it has changed hers.
Pocha's case (although we don't know the details behind her departure from the car dealership) reminds me of the story of Justine Sacco. On the Friday before Christmas in 2013, she fired off a Tweet before flying to South Africa where she joked about not having to worry about getting Aids.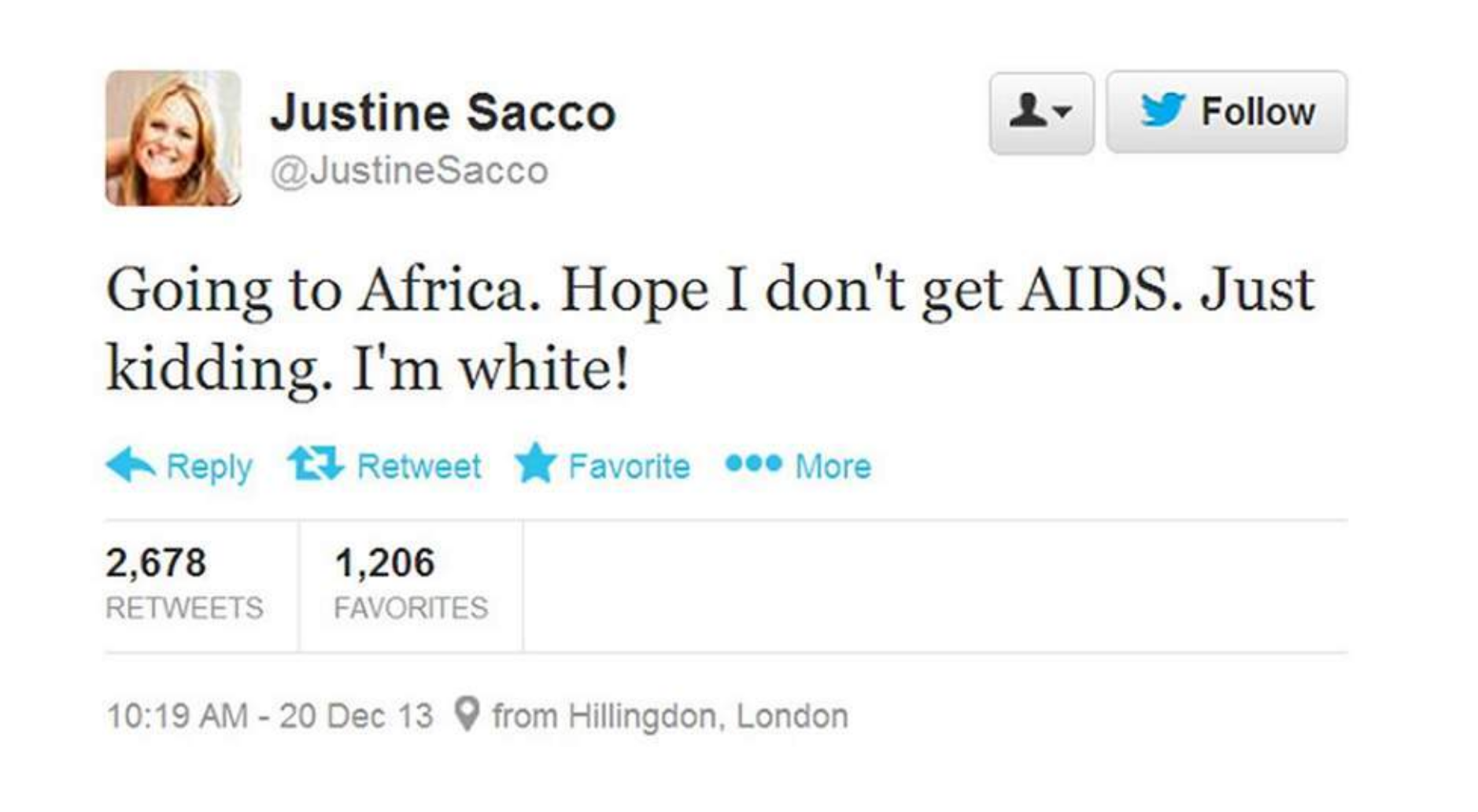 Twitter exploded. That Tweet became the biggest trending item on Twitter that evening. The hastag #HasJustineLandedYet became the hottest tag in the world. Workers in South African hotels threatened to go on strike if she showed up there, she was basically disowned by her family, she cried for days, lost her job and turned into a recluse for months. All because of one stupid Tweet that was an ill-advised attempt at humour. She is working again and has now found her way back into a communications job for the same company that fired her.
Once again, I am not defending either of them or what they did. I do like to see the punishment fit the crime and I'm not sure it does.
Social media gives people power like they have never have before. Unfortunately, too many don't use it wisely when things go wrong.