Lazy Journalism is Hard to Watch

By Grant Ainsley | Tips | [comments] | Posted [date]
---
Like many former members of the media, when I watch the news on TV, or sports highlight shows, I feel like an old man yelling at the kids to get off his lawn.

For the past few months, I've noticed two troubling trends when I watch these shows. It seems as though TV journalists and the people who produce these programs have got lazy and are taking the easy way out, rather than putting in the legwork to deliver a well-rounded product.
You might have not noticed the changes, but I have and I wish it would stop.

Can I Quote You?

In the last few years, we've seen an increase in prepared statements being read at news conferences by politicians, health care officials and many others. Whether it's Premier Minister Trudeau, or health care officials like Drs. Theresa Tam, Deena Hinshaw, or Bonnie Henry, they all start reading from statements prepared by their communication people and approved by the higher ups. They're almost all really dull and boring.
Maybe it's the pandemic that has caused this? Perhaps politicians and government officials don't want to say the wrong thing, so they play it safe and stick to reading from a long script before taking questions from reporters.
This unfortunately, has led to more and more TV newscasts running portions of these prepared statements.
I have a suggestion. Stop doing it, because it only encourages politicians to do it more.
Last Friday night, on the evening news, Dr. Theresa Tam was reading from a prepared statement from an online news conference earlier in the day. It was painful to watch. Why the reporter chose that clip as the most watchable item from that news conference is beyond me.

I can't understand why TV outlets run clips from officials reading prepared statements. It's boring and it's not good journalism. But it is easy to do. TV newsrooms everywhere have fallen into the trap of using what they consider to be the most important thing somebody says, even if they're reading it off a teleprompter or piece of paper.

My approach would be to have the news anchor tell us what the announcement is, instead of the newsmaker reading the statement. Then, after the anchor tells us what the announcement is, I would like to see the newsmaker answering a reporter's question, in their own words, about why that decision was made. Not only does the newsmaker have to defend the decision, they're using their own words to do it and not something written for them.
Journalism has to be more than just allowing the government or health officials to get their messages on the air without having to explain why the decision was made, or having to answer some tough questions.
Simply grabbing 10 seconds of a political leader reading words off a paper isn't good journalism. It's lazy. If you don't believe me, look for it the next time you're watching the local evening news. There's no excuse for it, other than laziness.
For years I ran a radio newsroom. If I was running one today, I would tell my reporters that I never want to hear a politician reading from a prepared statement on the air, unless one country was declaring war on another.
Stop Reading to Me!

While I'm at it, here's something similar, but perhaps even worse to the eyes and ears of a former journalist like me.
I've written about this before, but I'll do it again, just in case somebody running a TV newsroom reads it and understands how stupid it looks and sounds.
More than ever I see news and sports reports on television show the words of prepared statements on the screen and then the anchor will read the prepared statement, word for word.
Once again, this is just plain lazy journalism.
It's become far too easy for a TV station or network to take the words of a politician, athlete or anyone for that matter, and slap the words from their prepared statement in white text on a dark background with a photo or image next to it. It might look good on the screen, but it's awful to the ears.
Last week I was watching Sportscentre on TSN, and as it covered the Novak Djokovic story from Australia, the anchors read FOUR prepared statements or Tweets, one after the other.
This was one of them.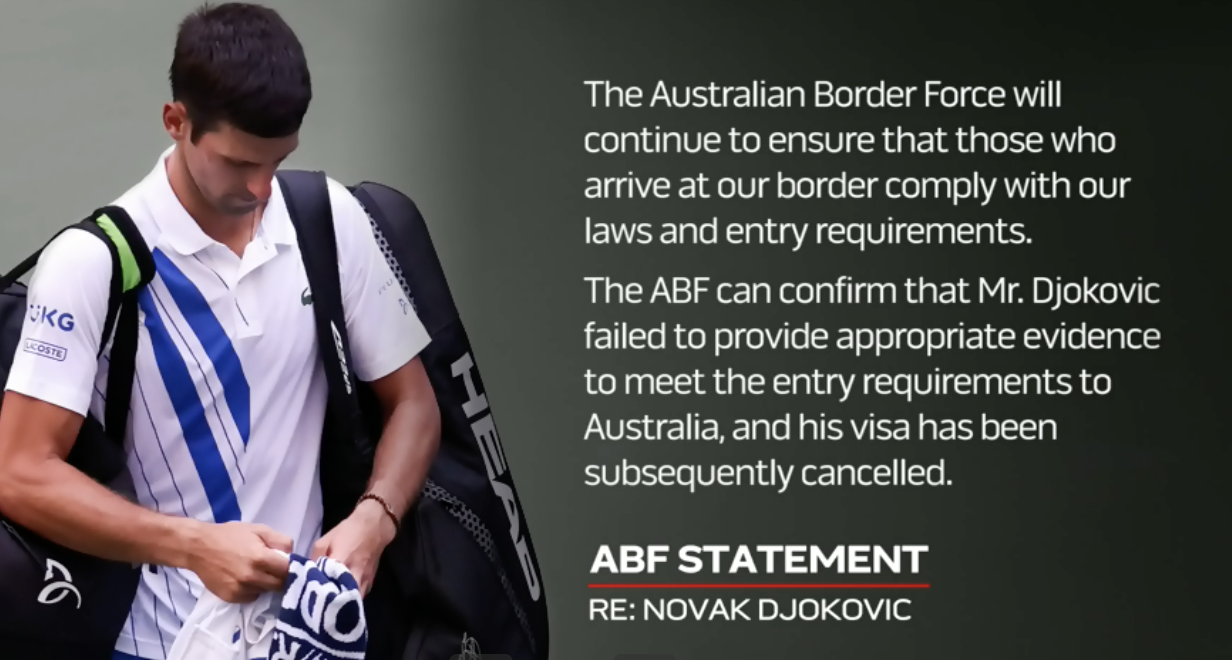 Why not paraphrase what is being said in far fewer words. Here's how it would sound – "In a prepared statement the Australian Border Force said (blank)…
Instead we get a TV anchor reading the statement to us, word for word, like we were all three-year olds getting Mom to read us a story.
The sad thing is, this is a vicious cycle. If more politicians, athletes and celebrities get media outlets reading their prepared statements on the air, they'll keep doing it. Why wouldn't you?
Maybe this would work better. "(Name of politician/athlete/celebrity) has refused to answer questions from reporters, but did release a prepared statement that said (blank)".
On top of all this, most of these prepared statements are little more than word salad, with words and phrases nobody would use in real life. When you see words like "robust" and "reimagined" in a prepared statement you know it's been written by a PR person and not the one making the statement.
Journalism has far bigger issues these days, but correcting this laziness would certainly help.
Photo credit: CBC
Image credit: TSN
New Year, New Look

I want to send a shoutout to designer Daniel To and the team at
Mediashaker
in Edmonton. Last week the look of my website was updated and I think it looks a lot better, but
you can be the judge about the new look
.
A number of smaller things on the site were changed too and the checkout from my Store will be a lot quicker for clients buying my services.
A second shoutout goes to photographer
Jennifer George
of Red Deer for the head shots she did just before Christmas that are now on the site.
Working with great partners makes a real difference. I highly recommend the work done by both Mediashaker and Jennifer George Photography.