My Memories of Herb Tarlek

By Grant Ainsley | Tips | [comments] | Posted [date]
I was working on a blog last Thursday when I heard that Frank Bonner, who played the self-centred Sales Manager Herb Tarlek on WKRP in Cincinnati, had died at the age of 79. I felt sad because I met, and spent some time with Frank many years ago.
Bonner died after suffering with dementia, which was a sad end for an actor who played one of the best TV characters of all time. I scrapped the blog I was writing and decided to write about "Herb" instead.
Many years ago, I met a much different person than the plaid-suit and white shoes-wearing character he played on the show around 40 years ago.
Herb Tarlek and Les Nessman Come to Town
In 1984, I was News and Public Affairs Director at what was then 96 K-Lite Radio in Edmonton. In addition to running the newsroom and handling the morning on-air news shift, I also did a daily talk show during the noon hour.
The format was to get guests in the studio for an interview and then take calls from listeners. Looking back on those days, I was really fortunate to meet so many interesting people.
Our morning man at the time was my friend Mike Lynch. Mike was a great broadcaster and an even better person. Mike's wife, Laurie Wallace-Lynch did publicity for Stage West, the dinner theatre at the Mayfield Inn in Edmonton's west end. I had the headliners to all Stage West plays, about a half a dozen a year, on my talk show. By the way, Mike and Laurie celebrated their 45th wedding anniversary over the weekend in Ontario and I still keep in touch with them.

In the spring of 1984, two of the stars of the 70's sitcom WKRP in Cincinnati were at Stage West in a play called Mary, Mary. Frank Bonner and Richard Sanders, who played newshawk Les Nessman on the show, were two of my all-time favourite TV characters, so I was thrilled when Laurie brought them to the radio station for the talk show from the Mayfield Inn, where they stayed during the play's run.
Before we got on the air though, the AM sales people asked if they could have a minute with Frank Bonner. When we walked into their office, the sales guys were ready. They were all decked out in plaid jackets and suits with white shoes and white belts. It was hilarious as they all posed for photos with their hero and fellow radio salesman Herb Tarlek. Frank was very gracious. I wish I had a photo from that impromptu photoshoot in the sales office.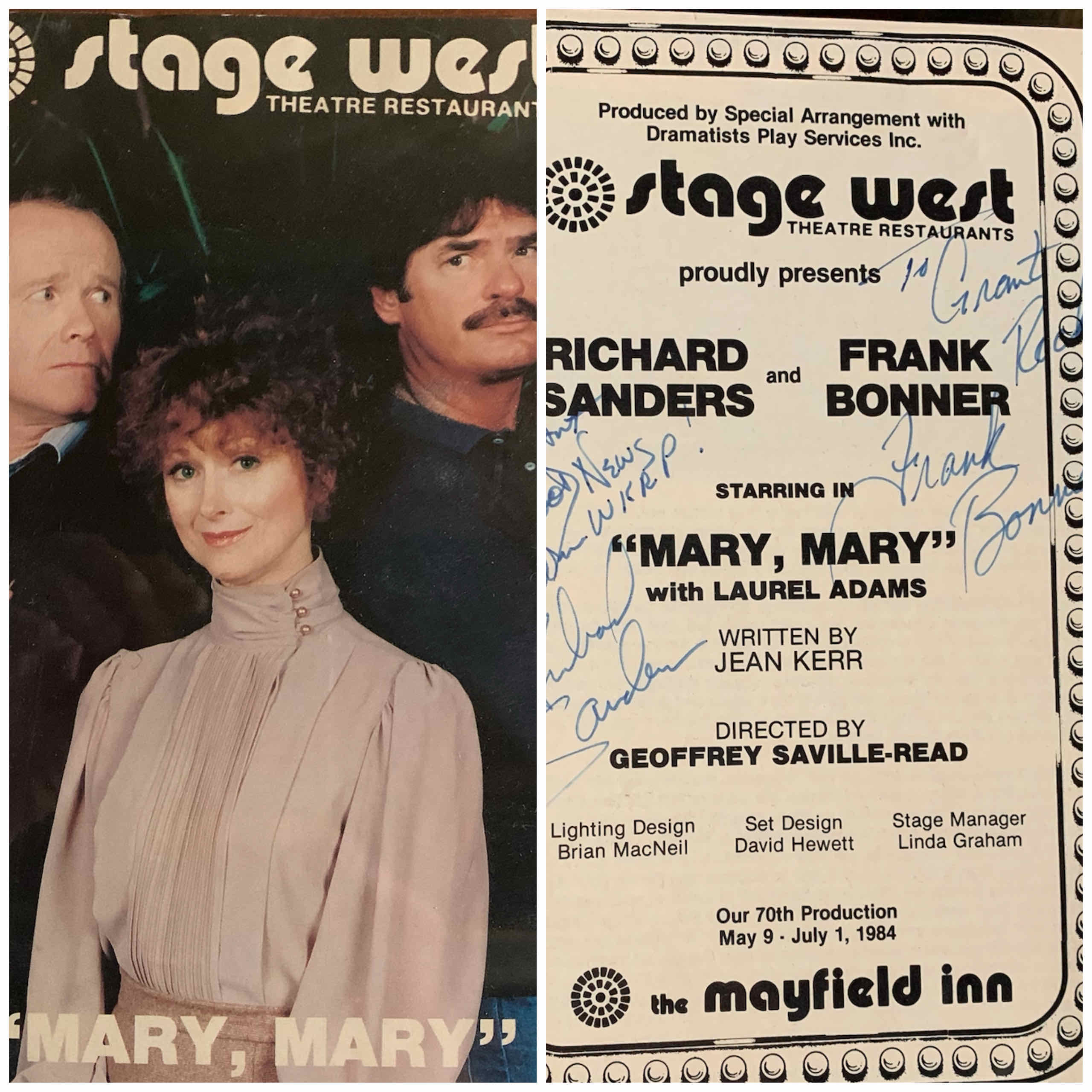 The Talk Show
During the talk show, I talked to Frank and Richard about some of the memorable scenes from the show. I remember one in particular. Something terrible had happened at WKRP and Herb Tarlek stopped everyone and then asked "So, how will this affect me"? Great line.
Of course, we talked about the famous "Turkey Show" where turkeys plunged to their death in a botched radio station promotion. Another memory I have from that talk show was Richard Sanders pretending to be in a news helicopter and pounding on his chest to imitate the sound of a report done from a chopper.
I said goodbye to Frank and Richard as they left the station, not expecting to see either again. However, not long after, Laurie asked me if I could do her a favour and take Frank and Richard to the horse races at Northlands in early June. From time to time, the stars from Stage West did a presentation to the connections of the winning horse in the feature race at the track, as a way to bring publicity to the show and to give the stars a chance to get out on the town.
It was a fun evening. From time to time that night, Frank and Richard were asked for autographs and I remember them always being incredibly kind and down to earth. I also remember talking to them about the difficulty of actors getting future TV work after being typecast to a certain role. It had happened to a long list of stars, some of whom ended up doing dinner theatre like Frank and Richard. I remember them both saying they were appreciative of the role they had on WKRP and never regretted doing it.
The Wedding Day
The story gets better.
On June 16, I got married. My wife, Deborah and I decided to hold both the wedding ceremony and reception at the Mayfield Inn.
Just after noon that day, as I was checking into the hotel, Frank spotted me at the front desk, as he walked through the lobby. I remember him asking me how I was and I told him I was nervous because the big day was here and the wedding was only a couple of hours away. We chatted a bit about the ceremony, he wished me well and then headed on his way.
The following morning, as my new bride and I, along with my new mother-in-law walked to the restaurant to have breakfast, we ran into Frank who was just coming out. It was a nice way to impress your new wife and mother-in-law by introducing them to your friend Herb Tarlek. I remember how he went out of his way to make my wife and mother-in-law feel special.
Deb and I were married on June 16, 1984. Frank Bonner died on June 16, 2021. What are the odds of that happening?
RIP Frank.
Photo credit: Getty Images