Sports TV Recovers From a Dark Year

By Grant Ainsley | Tips | [comments] | Posted [date]
---
Sports reporters have likely been impacted more by the pandemic than anyone else in the media. For years, accredited reporters could stroll into a locker room after a game or practice and ask their questions. Over the last year though, the only questions they've been asking have been over Zoom.

This has totally changed the way they work, and unfortunately for sports fans we're getting less timely information as a result. As an example, several players on the Toronto Raptors are in "COVID protocol" but we have no idea how ill they are, how they caught the virus, or when they'll be back. Teams have much more control over the information that gets released to the media.

For a year, I've also watched post game interviews with poor video and bad audio, but it's finally getting better.
The Good, the Bad and the Canucks
When sports returned last year, there were major problems for sports reporters, media outlets and TV networks and the teams they cover. A very different world existed for everyone, because after years of allowing sports reporters to go where they wanted, there was suddenly a long list of rules to follow and barriers set up between reporters and players.
When the NHL playoffs started last July in bubbles in Edmonton and Toronto, the only media types allowed into arenas were those covering the game for TV networks. They were part of the quarantine. A few others eventually got in as the playoffs went along, but only under strict guidelines.
When the regular season finally started, some NHL teams only allowed reporters into the building after they passed COVID tests. Even those reporters couldn't get within a mile of players.
Suddenly, sports teams in all leagues needed to figure out ways to put their players in front of the media, while following health and safety rules. What followed last year was one case after another of terrible video and/or audio of players being interviewed over Zoom. Some teams should have been embarrassed.
Hockey teams worth hundreds of millions of dollars seemed to be using nickel and dime video and audio equipment for post-game interviews.
Things have improved dramatically in the last few months, but I still see examples like this from the Vancouver Canucks that I shake my head at.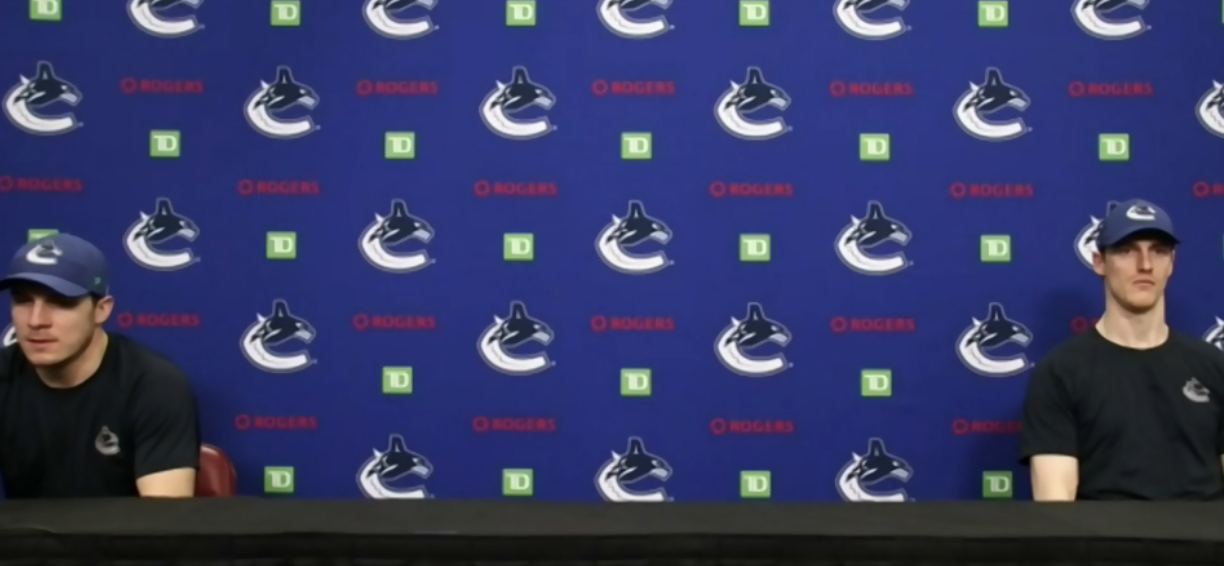 I have no idea why the Canucks do this. It can't be to keep players safely away from each other. Most of these players have just finished hugging teammates and wrestling with, and sweating on opponents.
Get two cameras in the room, some basic switching equipment and the problem is solved. Needing to use the widest shot ever used for an interview in sports history should be a thing of the past. This looks like something we used when I was a Radio and TV Arts student at NAIT in Edmonton back in the 1970's

Getting Used to COVID
In fairness, teams in major sports leagues have got better with their technical setups for post-game interviews in 2021.
Many now have nice backdrops to put behind players. Here's one being used by the Montreal Canadiens. Most have the team's logo and the logo of a big sponsor.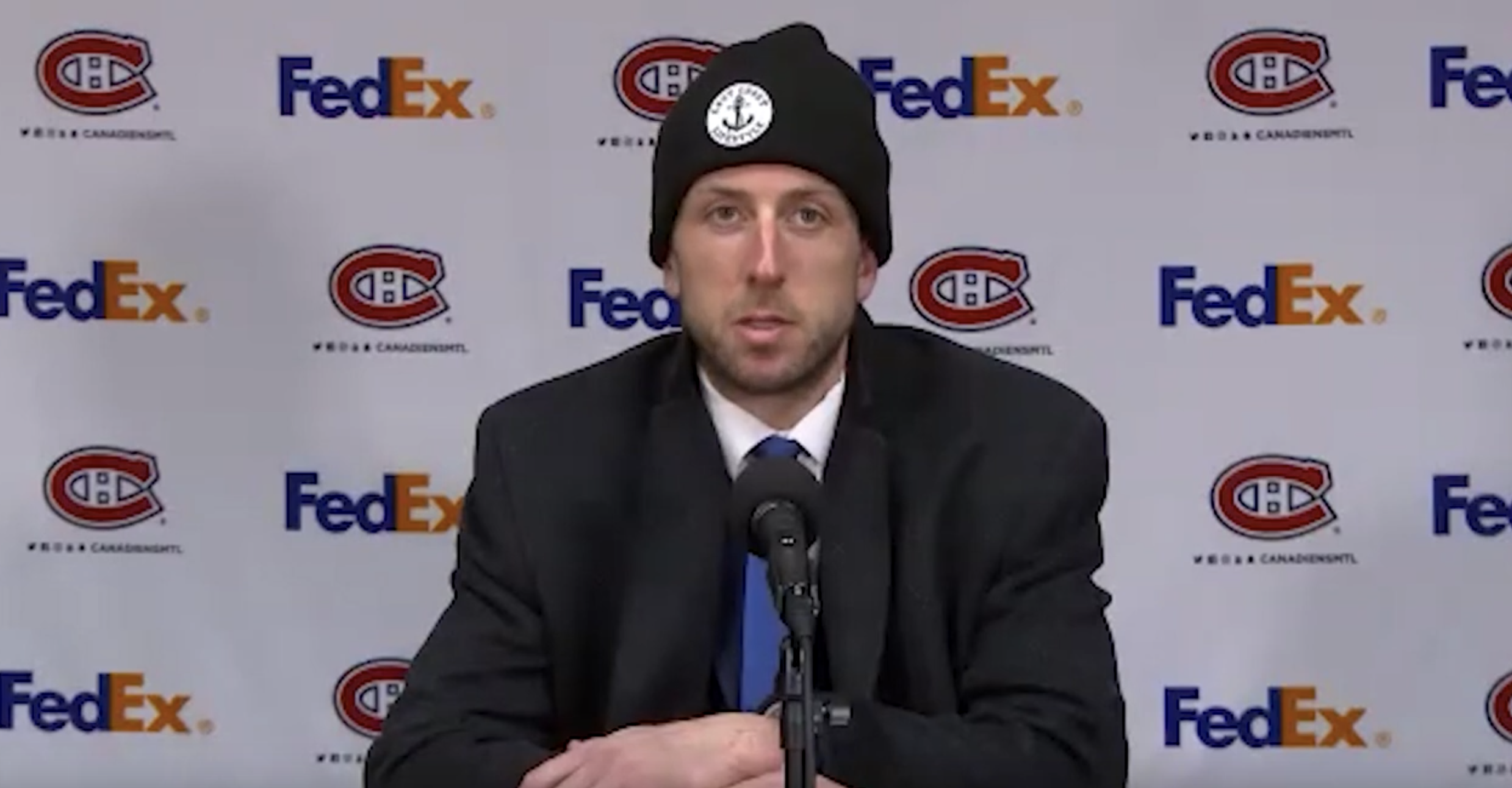 For several months, teams were using backgrounds that weren't wide enough to accommodate the camera's wide-angle lens. The Raptors still have this problem. Notice how the banner behind coach Nick Nurse isn't wide enough.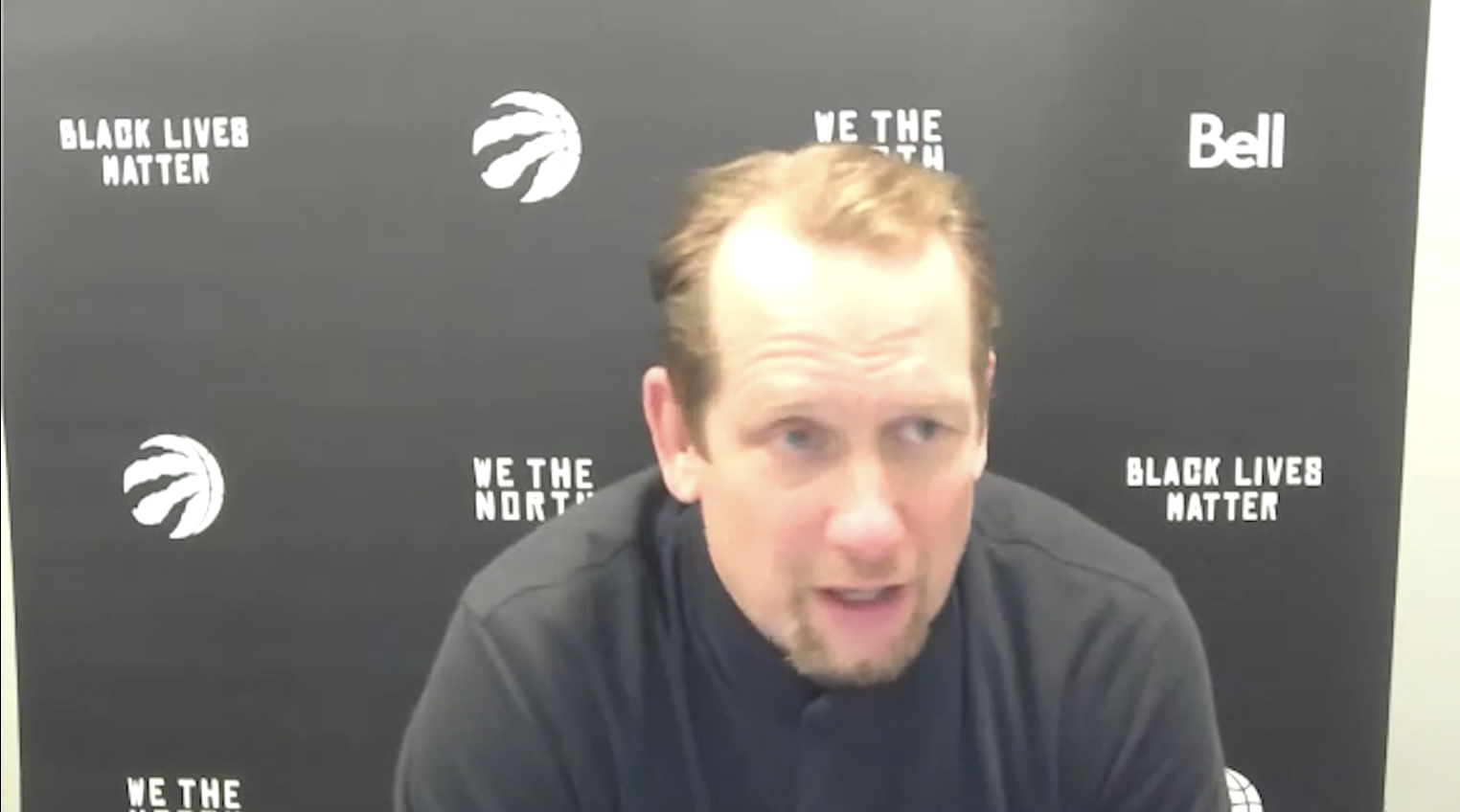 Nurse causes other problems for TV because he likes to lean forward during interviews. Technicians get the camera set up for him to be interviewed, but as soon as Nick leans in, too much headroom is created. I've seen some really bad Nick Nurse clips this season. This one is no exception. Before COVID, camera operators would have made sure the shot was framed properly. Now a camera is mounted and can't move. Besides, the video quality is poor, but these days that doesn't seem to matter to the sports networks or the teams they cover. Some still need to do better, including the Raptors.

The Eyes Have It
Another thing I keep seeing is players pulling on ball caps to do their post-game interviews. Again, this isn't new, but the problem now is, there's no camera operator to adjust their shot. As a result, you can hardly see the eyes of some players like the Maple Leafs' captain.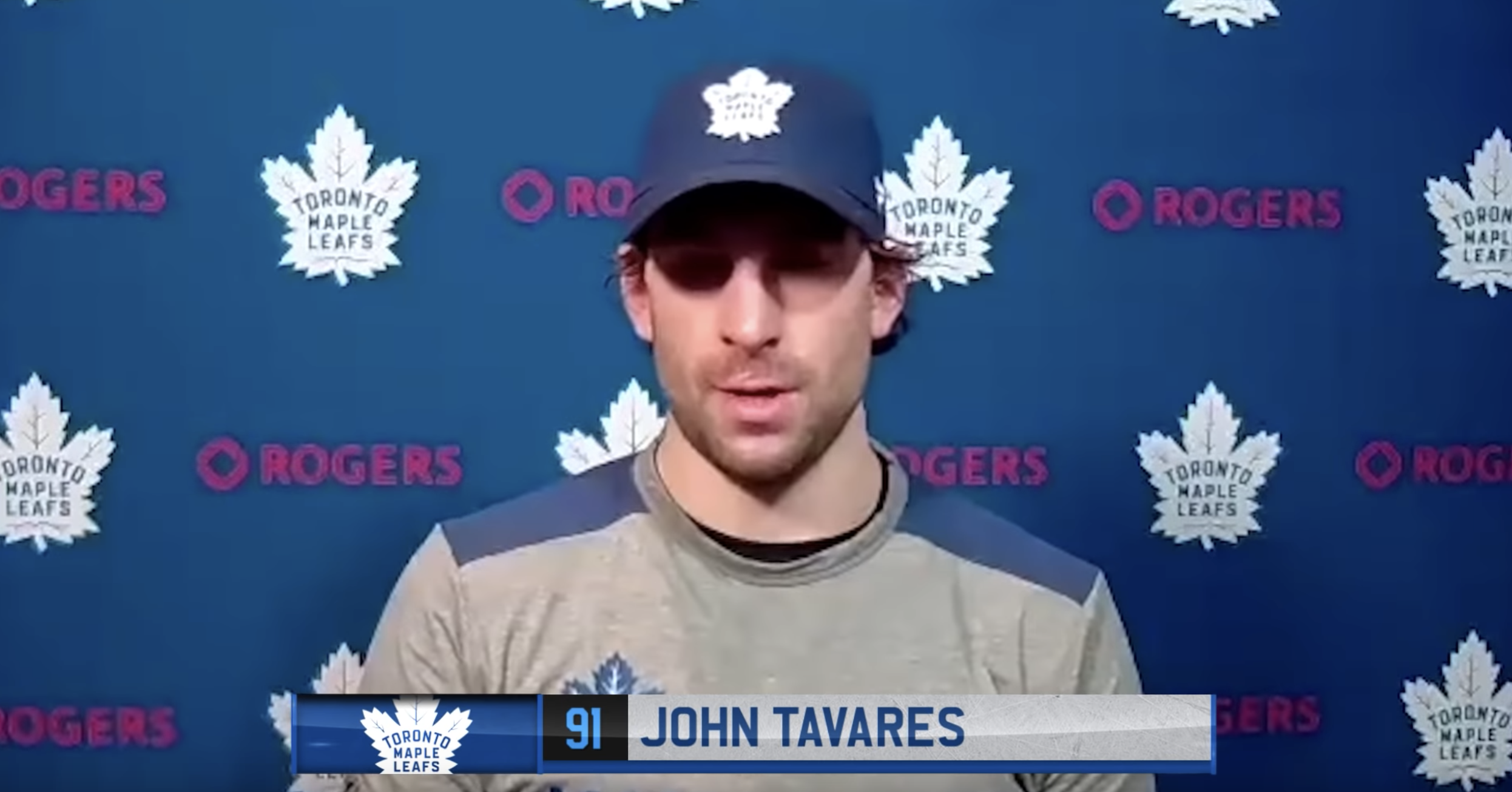 Your eyes help you communicate with your audience. When people can't see your eyes, it's a barrier to proper communication. Players shouldn't wear ball caps, or if they do, they should make sure the brim of the camp isn't so low.
Teams are getting better though. I'm finally starting to see some post-game interviews in which the quality comes close to what we had before the pandemic. An example from last week was the new coach of the Calgary Flames Darryl Sutter.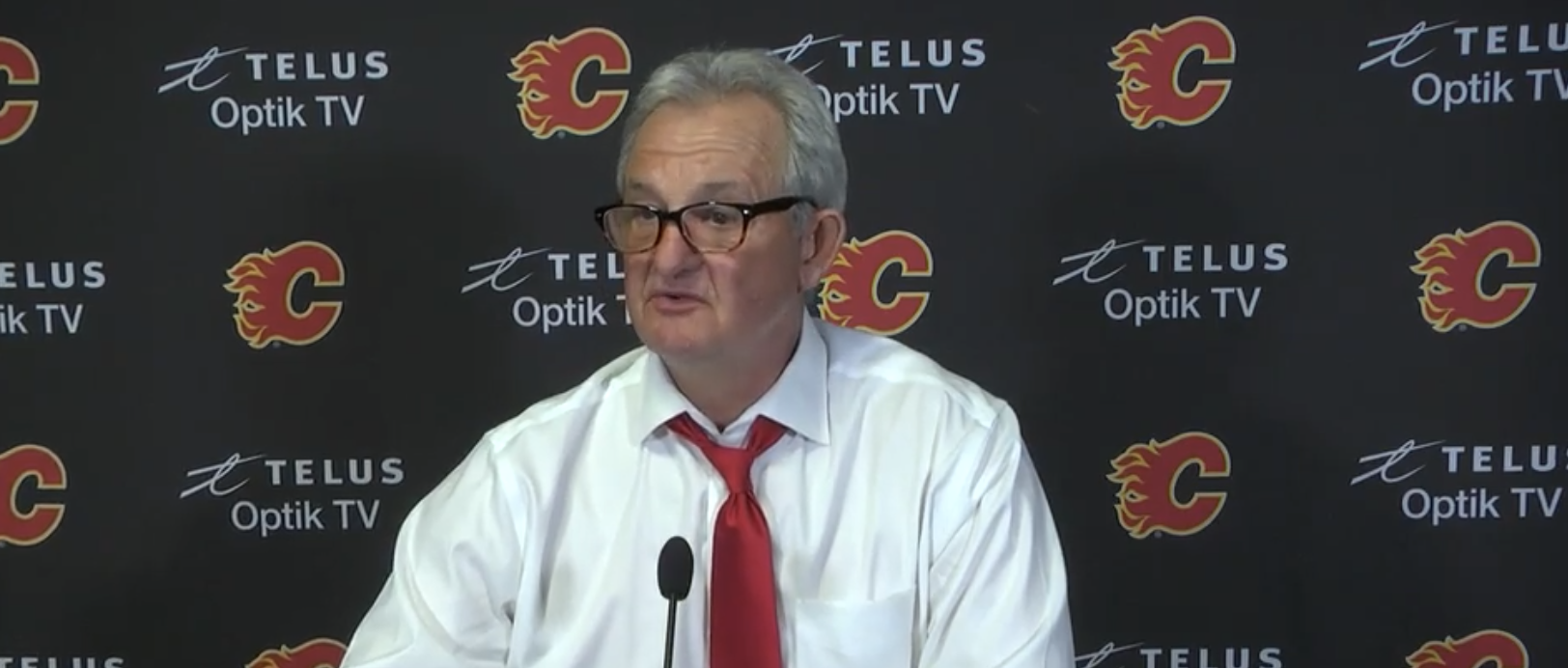 It's been a long year for sports fans and a very long year for sports reporters and the TV stations and networks they work for. I wish some of the technical solutions would have been found a lot earlier. Quite frankly, there's no reason they shouldn't have been.
Photo credits: TSN, Sportsnet, Oilers TV