When Off the Record Loses its Lustre

By Grant Ainsley | Tips | [comments] | Posted [date]
---
Negotiations between Canada and the US on free trade resume this morning after a break since last Friday. During that time, we didn't hear much about the talks, but we did learn about off the record comments from US President Trump that suddenly went on the record.

When anyone speaks on an off the record basis with a reporter, it's generally accepted the reporter will not use that information unless they can get it confirmed by at least another source. Essentially it means the information is relayed in confidence.
With Trump however, he didn't deny he made the off the record statements when they were reported. He was happy to confirm them, something that rarely happens with off the record comments made to the media.
Trump Goes Off the Record
As negotiators for Canada and the US tried to come up with a trade deal late last week, President Trump was doing an interview in his White House office with Bloomberg News, an international news agency based in New York with its roots in business news.
The topic was NAFTA, or what's left of it, and Trump spoke to the Bloomberg reporters on an off the record basis for a portion of the interview. He basically said the US won't be making any compromises with Canada, but he couldn't say that publicly because "it's going to be so insulting they're not going to be able to make a deal." Trump also said any deal with Canada would be "totally on our terms" and also said every time US negotiators have a problem with a point being made by Canada, "I just put up a picture of a Chevrolet Impala", a car produced at the General Motors plant in Oshawa, Ontario. Future tariffs on cars made in Canada would be hugely damaging to the auto industry and perhaps the Canadian economy. Those comments were also off the record, which basically means they're not to be reported by Bloomberg.
They weren't, but they were almost immediately reported by the Toronto Star and its Washington Bureau Chief Daniel Dale, who's job it's been for the past couple of years to cover anything newsworthy Trump has said or done. He's been busy.
As soon as the Star's story was released, Trump sent Tweets criticizing Bloomberg for leaking the story and then Dale defended Bloomberg, without saying how he got the information.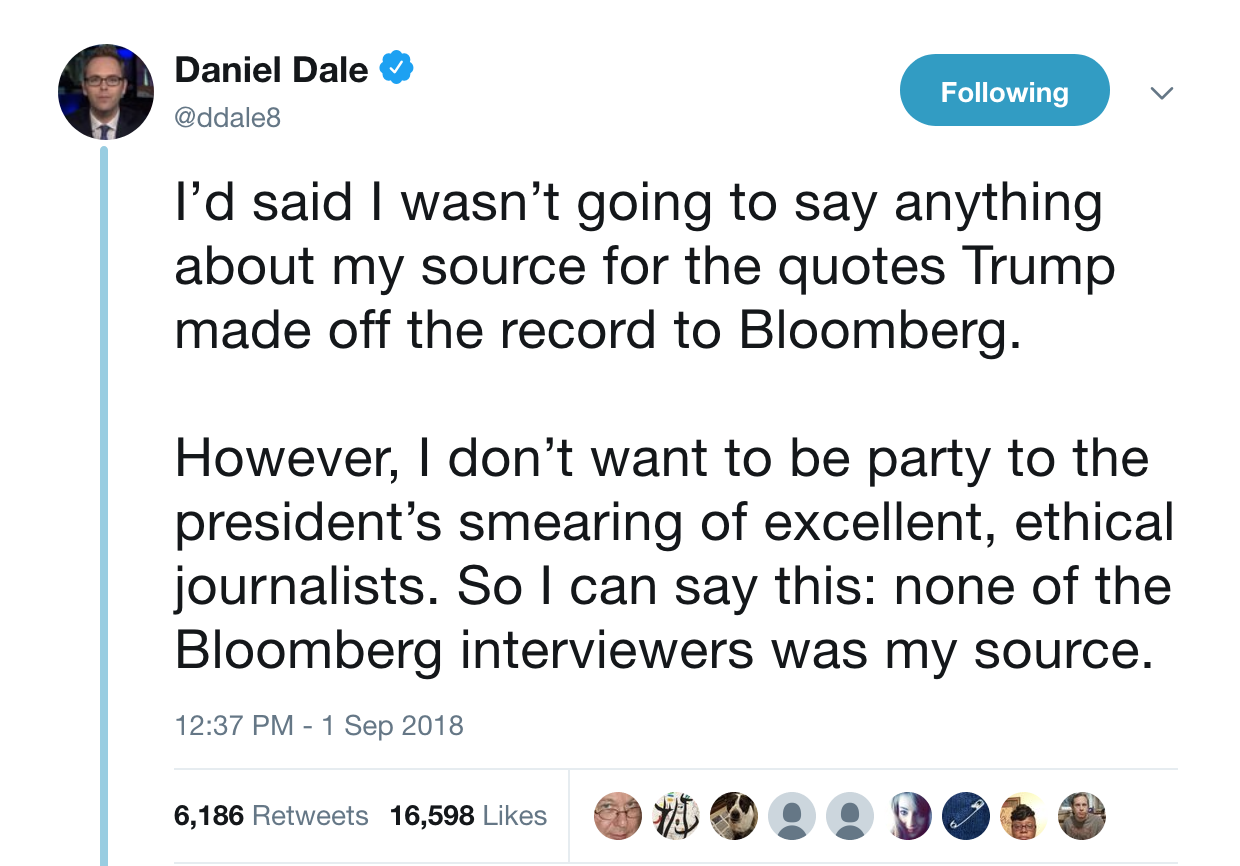 Twice Bitten, But Not Shy
Once again, the Trump administration has been bitten by off the record comments. In March, when former Secretary of State Rex Tillerson was fired, Trump's Chief of Staff John Kelly told reporters, in an off-the-record statement, that Tillerson was sitting on the toilet when he got fired. No reporters present at the time reported that juicy tidbit, but others who were told about it by those journalists did make it public and defended their decision to do so. They basically said they made no agreement they wouldn't report the information, so they weren't obligated to withhold the info.
When I do media training, I tell people not to make off the record comments to reporters. Very little good comes from talking off the record. What happened to Trump and Kelly are classic examples of what can go wrong. In addition to that, reporters have different ideas of what off the record means and how that information can be used.
I always tell people I work with that if a reporter asks to speak off the record, simply say "I'm sorry, but all my comments are on the record." It keeps everything clean and simple.
Off the Record Gets Trumped
There's one other point about Trump's off the record statement that found its way on the record.
Normally with off the record comments that get reported you're shocked. "Wow" you think, "I'm really surprised he said that. He must be really embarrassed by that being reported."
Not with Trump. When I first heard about it I thought "Yup, that sounds like something he would say." His off the record comment could have been made on the record, because it fits in nicely with so many other off-the-wall comments he's made in the last couple of years.
Off the record comments are supposed to surprise you, maybe even shock you, but with Trump, very little that he does or says is surprising. From "grab her by the pussy" to calling John McCain "a loser" to defending Russia and Putin this summer at a news conference. All statements were surprising and maybe even shocking, but with Trump we've come to expect it.
This is something else that has separated Trump from almost any politician we've known. You really have to wonder if anything he says off the record would be truly shocking. I'm not saying that's good, but it is different. Most everything with Trump is.
Photo credit: T.J. Kirkpatrick - New York Times