Postmedia Becomes Fox News North

By Grant Ainsley | Tips | [comments] | Posted [date]
---
Last week I wrote a blog titled The Media Isn't Running in This Election. The point I made was Canadians were making far too much of perceived bias by the news media during the election campaign.

Can I take a mulligan on that blog?
Since that blog last week, we've seen CBC take the Conservative Party of Canada to court and Postmedia newspapers take out their heavy artillery against Justin Trudeau.

While everyone is ripping the CBC for its decision to sue the Conservatives during the election, maybe they should take a closer look at the newspaper they're reading?
This is Journalism?
Late last week the CBC launched a lawsuit against the Conservative Party because it used CBC content for an advertisement critical of PM Trudeau. It also named journalist Rosemary Barton as one of the people suing the Conservatives. Not a wise move. With just days left in the campaign, every move she makes is being questioned, not to mention everything reported by the CBC. After all, how can it really be unbiased in its reporting when it is suing one of the major political parties in Canada?
Almost missed though was the start of a strong anti-Liberal/pro-Conservative campaign by Postmedia newspapers across Canada. It was easy to miss because some of the headlines in its newspapers looked like responsible journalism. Far from it.

Late last week Postmedia's National Post ran a front-page advertisement with a headline that screamed IT'S TIME FOR A NEW PRIME MINISTER. Just under the headline was a photo of Justin Trudeau. The ad was paid for by a right-wing lobby group and it came out just before advance polls opened across Canada. A separate page listed all the reasons why it's time to get rid of Trudeau.

The lobby group is called the Canada Growth Council and it's based in Regina. It's the same group that paid for controversial billboards earlier this year targeting high-profile Liberal candidates.
Billboards and internet ads are one thing, but you really have to question a newspaper selling its front page to a group with an attack ad less than two weeks before a national election. Good journalism? Of course not.
Headline Hell
We should have known this was coming. Postmedia's CEO Andrew MacLeod had openly said its papers will provide coverage from more of a right-wing, pro-business prospective. I wrote about that a couple of times. You can read my comments about the erosion of journalistic standards here and here.
The chickens are coming home to roost. Check out the slant to some of the coverage I've been reading every morning in the Edmonton Journal for the past week or so. Does it look anti-Liberal and pro-Conservative to you?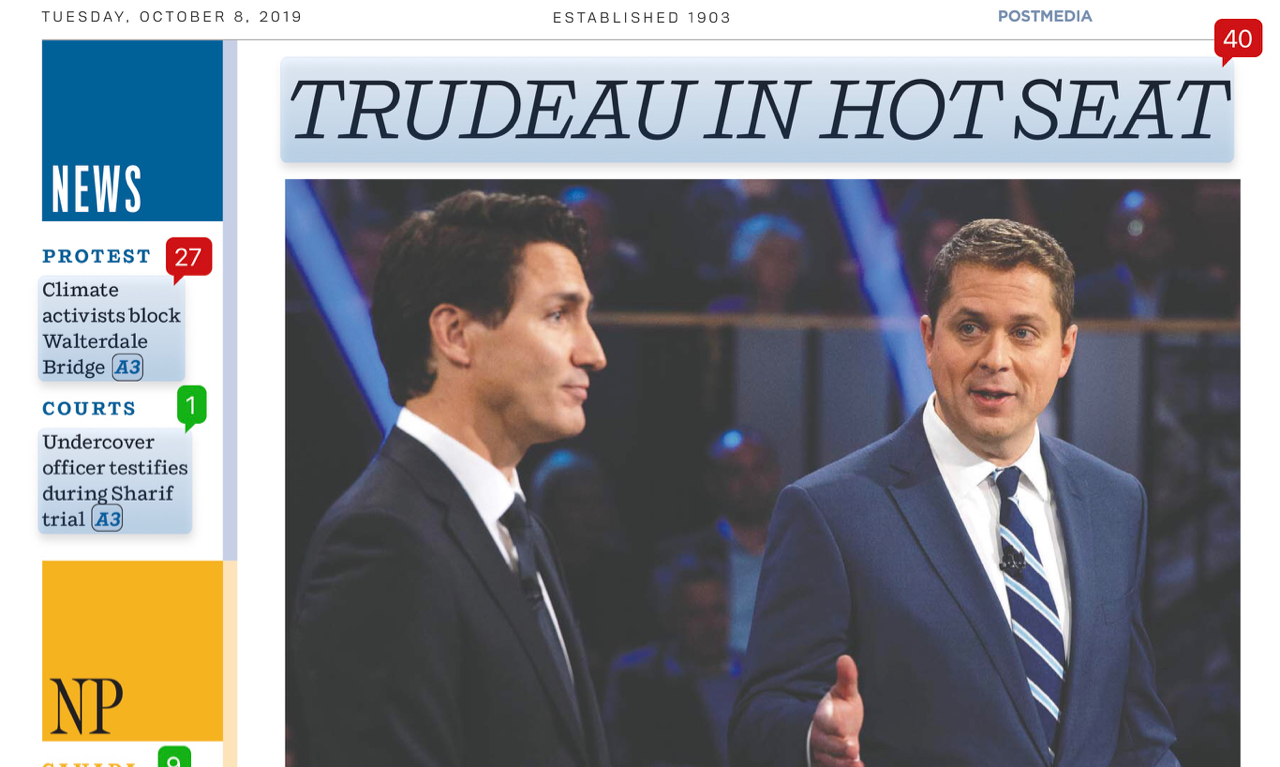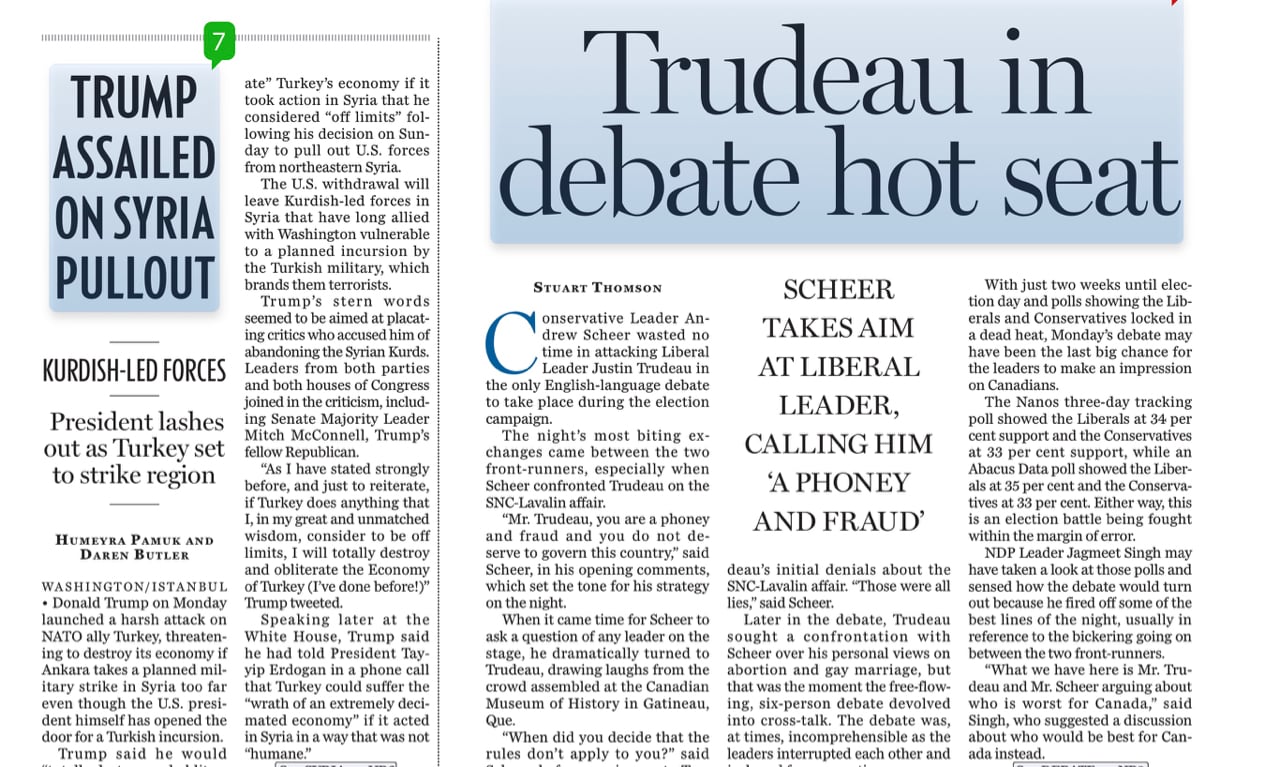 A Sad Day For Journalism

Expect all Postmedia newspapers to endorse the Conservatives this weekend, if they haven't already. Newspaper endorsements used to mean something. They don't anymore because they're obviously so slanted.
I want to make one thing clear. My comments have nothing to do with who I'll be voting for. They're only about how journalistic standards at Canada's biggest newspapers have gone out the window.
When the National Post ran that front-page ad from a lobby group last week, it marked the clear end of journalistic integrity on political coverage at Postmedia. It's obvious that if somebody has enough cash and advances a certain political point of view, there will be all kinds of room for them at Postmedia newspapers across Canada.
It's sad to see what the iconic Southam chain has turned into.
Images courtesy of National Post and Edmonton Journal