Phil's Triple Bogey

By Grant Ainsley | Tips | [comments] | Posted [date]
---
The life, reputation and legacy of golfer Phil Mickelson all changed last week because of comments he made several months ago. Mickelson claims he spoke off the record and what he said was taken out of context, but the end result is the same.

While Phil's comments started the chain of events that saw him lose millions of dollars in sponsorships and send him away from the spotlight, it was really his "apology" that caused most of his problems. The story shows how important an apology can be when you mess up.
There are also at least three lessons that can be learned from what's happening to "Lefty."



Bogey #1 - Don't Say Stupid Things

Several days ago, comments from Mickelson were reported that basically said although he knew the Saudi government kills people and has a terrible record on human rights, including its treatment of gay people, the proposed Saudi Golf League was a chance to get leverage on the Professional Golfers' Association (PGA) tour, because he and other golfers should be making more money. There were other bizarre and hurtful comments too.
It was a clear case of saying "The extra money we should be making is more important than human lives." Those around the golf world and everyone who has a basic sense of what's right and wrong couldn't believe that Mickelson could be so cold. Let's remember, in his career Mickelson has made more money than most of us ever dream about. Last year, Patrick Cantlay won $15 million dollars alone when he won the PGA tour championship.
The first thing Mickelson did wrong was he said some really stupid, insensitive things. None of this would have happened if he would have used different words to describe what he thought should be changed in the golf world to give players more control over the tour's finances.

Bogey #2 - The Apology

Late last week, Mickelson released a statement, which was meant to be an apology. It was anything but. It bordered on an apology, but seemed to try to paint himself as the victim. He apologized to the Saudis, but not the PGA tour.
It was 530 words long. No apology should be that long. Anything that long isn't an apology. I'm not sure what it is, but it's not an apology. I'm sure the statement went through everyone in Phil's camp, from managers to agents to PR people to lawyers.
Still it was nothing more than a non-apology.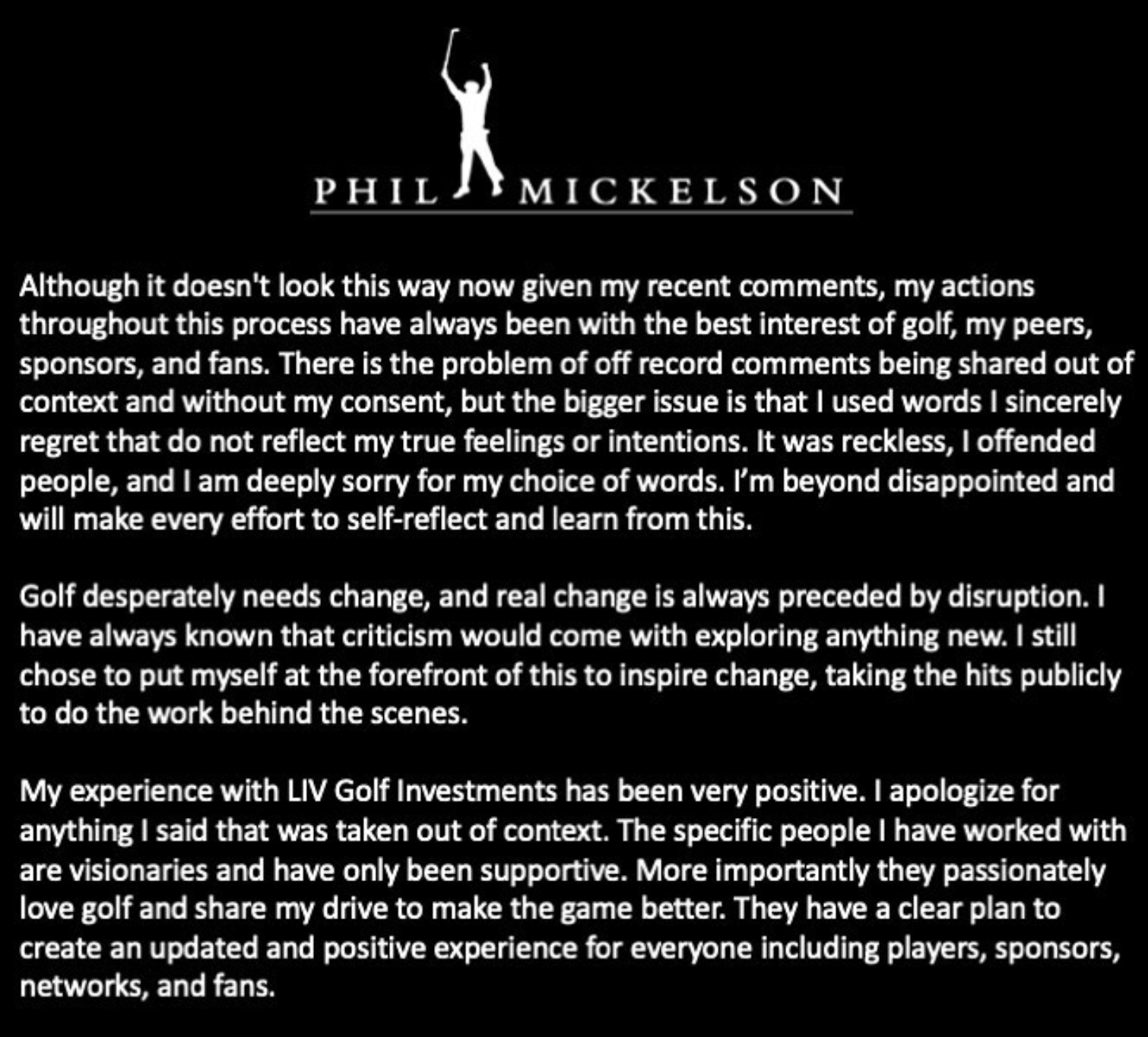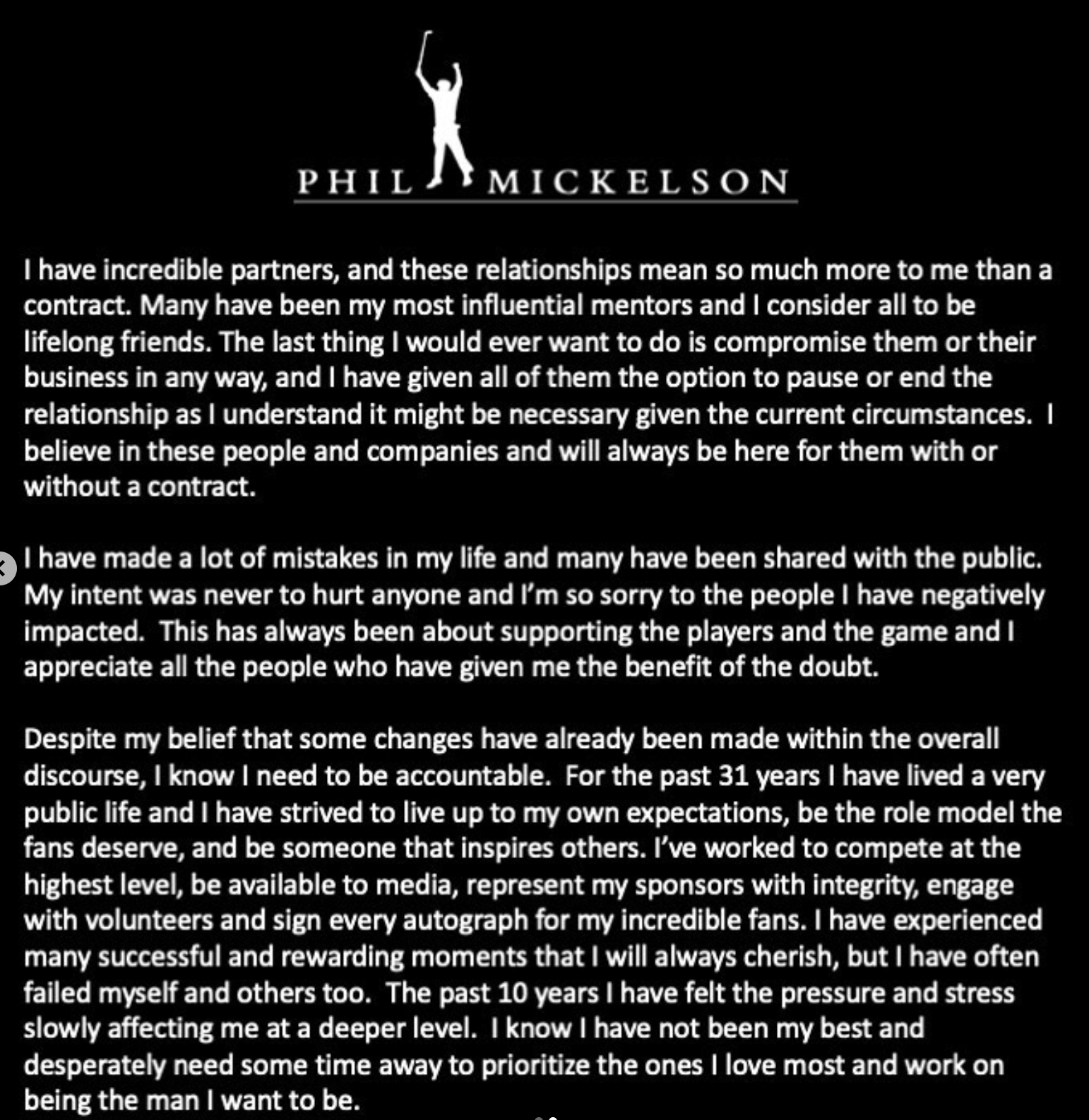 The fallout from the non-apology was even worse than the original statements. This wasn't the right time for Phil to try to defend himself and make himself look like a visionary.
One by one, led by KPMG, sponsors started leaving Mickelson. Callaway became the fourth on Friday, announcing it planned to "pause" its relationship with Phil. (God I hate it when pause is used. It's so phoney.)
To me, the apology hurt him more than his original comments. Sponsors were waiting to see what he would say about those comments and when they all bailed on him, we got their reaction.
Phil has his supporters and there are those who say he didn't say anything all that wrong, or that cancel culture got to Mickelson.
They may be right. I always tell people I'm not to argue when you say people need to have thicker skin these days and cancel culture has gotten out of control.
The reality today is, that when you're a big name athlete or celebrity and you say or do something stupid that offends people, you're going to suffer the consequences. I don't make the rules - that's just the way it is.

Bogey #3 - Off the Record

The controversial comments made by Mickelson came during what he claims was an "off the record" discussion with the author of his unauthorized biography Alan Shipnuck.
When somebody speaks off the record to a journalist, it means they're speaking in confidence and comments that are made will not be attributed to the person making them. It's like a pact between the person giving the information and the reporter.
Shipnuck denies it was an off the record conversation, He says Mickelson never used the term off the record, or anything like it. He also says he wouldn't have agreed to that conversation and I believe him. Why would he do that when he already is writing a book about Phil without Mickelson's input?
Here's the problem with claiming comments were made off the record. You're not denying what you said. What you're basically saying is "Yes I said it. I just didn't want it to be made public."
In his statement Mickelson also talks about his comments being taken out of context. That's different than off the record. Now he's saying what Shipnuck reported isn't what he said, or meant to say.
It's hard to believe Phil. His sponsors obviously don't either.
I'm a golfer and a golf fan and I hope Mickelson recovers from this, but it's clear that three lessons can be learned from this.
Don't say stupid things
Say you're sorry (and no more)
Don't blame the reporter (or anyone else)
Photo credit: Golf.com

Image credit: Phil Mickelson's Instagram