What's Wrong with People?

By Grant Ainsley | Tips | [comments] | Posted [date]
---
January has felt "normal" at times, as I traveled around the province doing media training. Things need to be done differently though, because COVID is still nothing to be fooled with.

For the last two weeks, signs in the hotels I was staying in caught my eye. One told me how some business owners don't want to follow the rules and the other one hit back at people who are yelling at hotel staff.
Call it "Signs of the times."

Masks Optional?

I was in Grande Prairie a couple of weeks ago to do media training for some municipal clients. As I was waiting for a cab at my hotel, I noticed these masking signs on the door to the pub that was connected to the hotel I was staying in.
What does this even mean?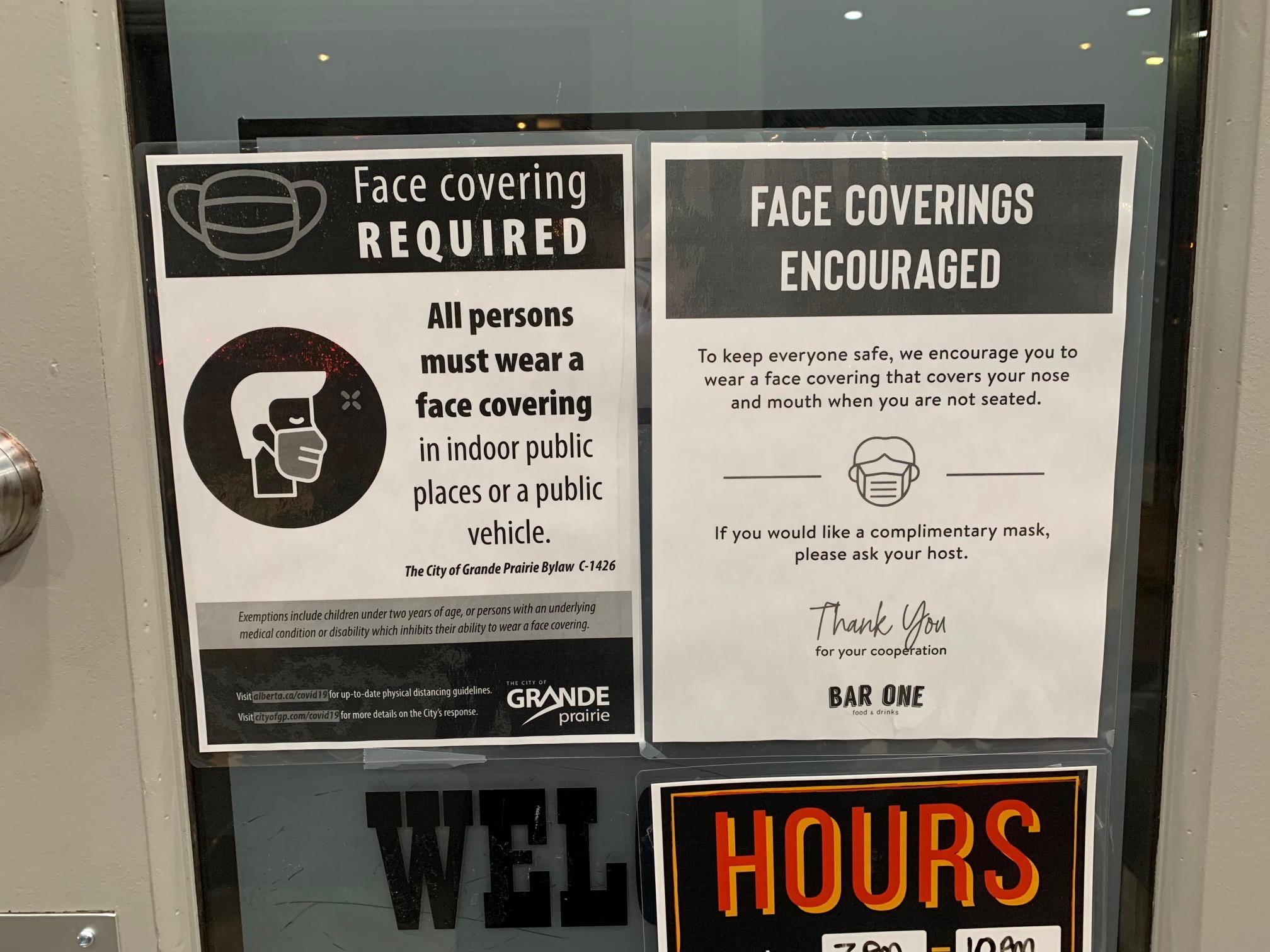 I have done several virtual media training sessions in 2022, but the this was the first time I had worked around people this year. However, I felt safe because everyone followed the rules during my sessions.
The clients I worked in Grande Prairie with were really good on masking. We also worked to keep everyone as far apart as possible. I wore a mask, or a double mask when I got closer to people, including when I interviewed them, which is part of the media training. Everyone was great and wanted to work safely.
Elsewhere, that wasn't the case. Although the bar might have a sign that basically says masks are optional, that's not the way it works in Alberta. Why would a bar put a sign on the door that tells people they can ignore the law?
What's wrong with people?
I understand we're all tired of this, but aren't people running businesses supposed to follow the rules? If they don't, many of their customers won't either.
Zero Tolerance

Last week I was at the other end of the province, in Taber, doing media training there.
As I walked into the hotel to check-in, I saw this sign at the front desk and chuckled.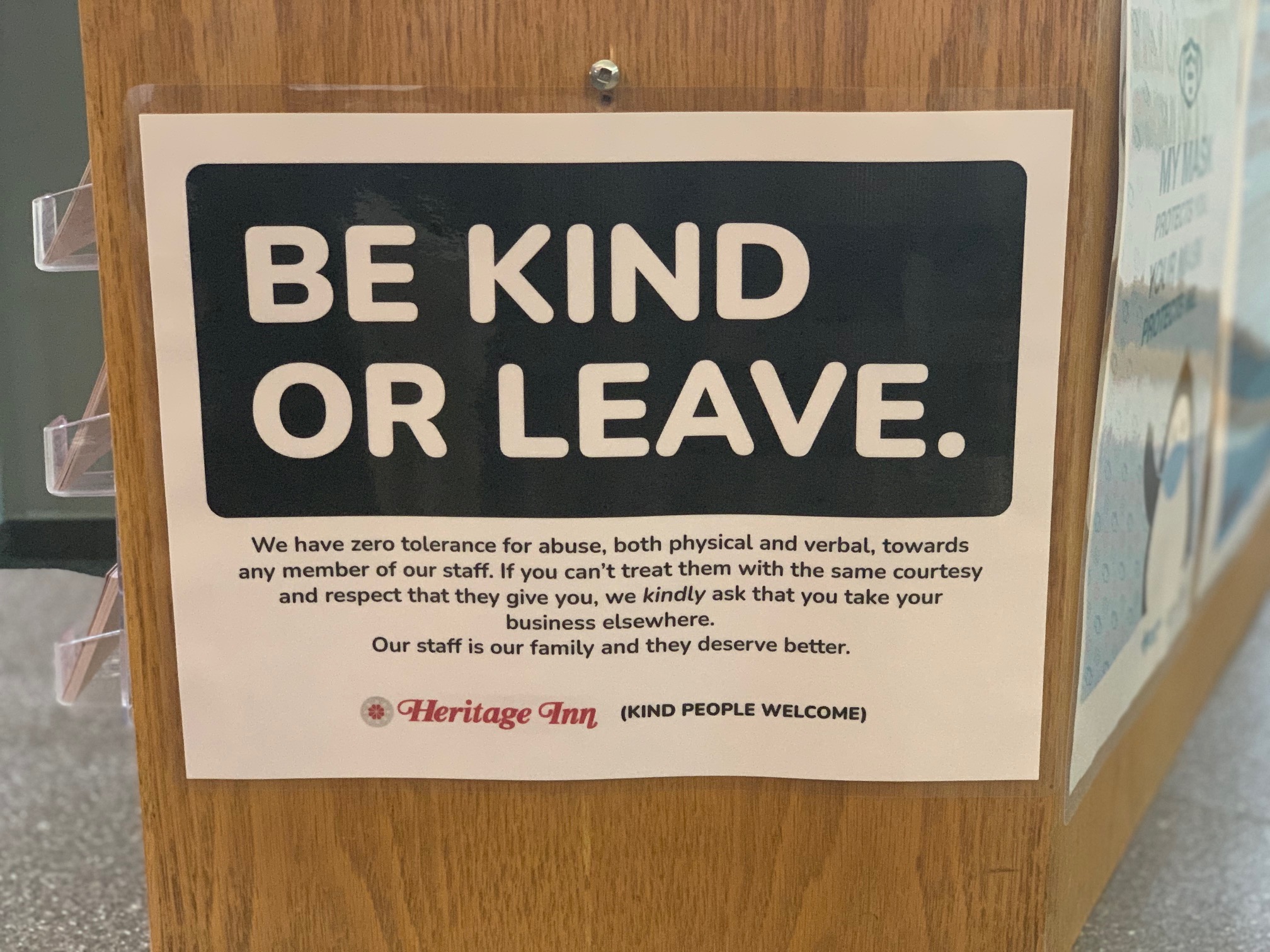 Abusive customers in hotels, stores and other retail outlets have become a real problem for workers. Last week my wife was at an Indigo location in Edmonton and got into a conversation with the woman behind the counter, who told her that she goes home in tears quite often because of having to deal with abusive customers.
What's wrong with people?
Kill Them with Kindness

I know COVID has made things worse. There's no question far too many people have turned into "Karens" because they're not happy with the service they're getting. I understand the nice, orderly world we knew a few years ago doesn't exist anymore. It is frustrating when Canada Post tells you you're supposed to get an important delivery on a Monday (when you're home for the day) and it finally arrives on a Thursday. Then you need to stand in line at the post office to pick it up. I get it. Unfortunately, more often than not, the people being yelling at in the post office had nothing to do with your problem.
Although it is worse than ever, this isn't a new problem. In 2004 I had a detached retina and quickly found out that when I needed to see my surgeon, it was a two-hour process. The second time I was there I saw one of those "No tolerance for abuse of staff" signs on the wall of the doctor's office for the first time. I watched doctors and staff race from one patient to the other. They were all doing their best, but the sad reality is there just weren't enough eye surgeons in Edmonton to handle the demand. That's not their fault.
For those of us who are appalled by some of the behaviour that exists these days, the best thing we can go is smile, be kind and thank the people who are trying to serve us.
Recently, I had a flight delayed, resulting in my connecting flight needing to be rescheduled. The women working at the WestJet counter seemed to be concerned about the bad news they were about to give me. I smiled and told them not to worry. I said I knew they're doing their best and as long as I got to sleep in my own bed that night I'd be fine. They seemed to appreciate my attitude.
Someday we will be through this. Some of us will be able to look back on these days and feel like we did the right thing. Others won't.
Who do you want to be?